Traffic jams at the weekend – travelers need a lot of patience on these routes
ADAC warns
Danger of traffic jams on the long weekend – drivers need a lot of patience on these routes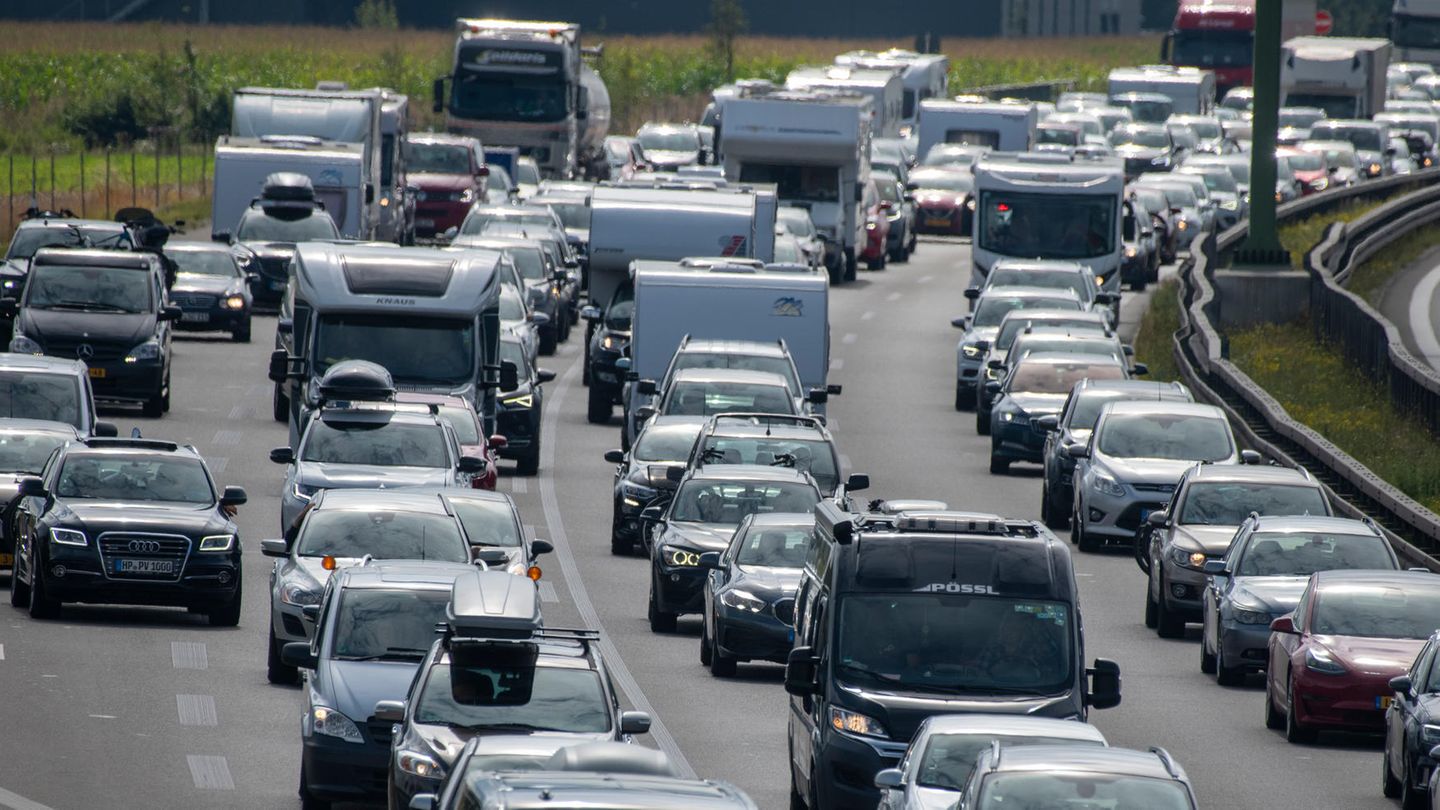 At the weekend there is a risk of traffic jams on the German motorways, but also abroad. A long weekend and the end of the Pentecost holidays ensure a high volume of traffic.
In many federal states, Corpus Christi extends the weekend. At the same time, the two-week Pentecost holidays in Bavaria and Baden-Württemberg ended on Sunday. This ensures a high volume of travel at the weekend – and accordingly also traffic jams.
This is where the most traffic jams threaten
According to estimates by the General German Automobile Club (ADAC), there will be traffic jams in southern Germany in particular. But numerous roads in the north of the republic are also affected by numerous short vacationers. The trunk roads to the North and Baltic Seas, as well as roads around the major cities of Berlin, Stuttgart, Cologne, Frankfurt and Munich, are particularly heavily used routes.
An entire multi-storey car park becomes a free charging station for e-cars
In detail, the following routes are among the busiest routes:
• Greater Berlin, Stuttgart, Cologne, Frankfurt, Munich areas
• Trunk roads to the North and Baltic Seas
• A1 Cologne – Dortmund – Bremen – Lübeck
• A1/A3/A4 Cologne Ring
• A3 Passau – Nuremberg – Frankfurt – Oberhausen
• A4 Kirchheimer Dreieck – Erfurt – Dresden
• A5 Basel – Karlsruhe – Frankfurt – Hattenbacher Dreieck
• A6 Nuremberg – Heilbronn – Mannheim – Kaiserslautern
• A7 Hamburg – Flensburg
• A7 Fuessen/Reutte – Würzburg – Kassel
• A8 Salzburg – Munich – Stuttgart – Karlsruhe
• A9 Munich – Nuremberg – Leipzig
• A10 Berlin Ring
• A61 Ludwigshafen – Koblenz – Mönchengladbach
• A81 Singen-Stuttgart
• A93 Kufstein – Inntal triangle – Kufstein
• A95 / B2 Garmisch-Partenkirchen – Munich
• A96 Lindau – Munich
• A99 Munich bypass
According to the ADAC, return traffic will reach its peak on Saturday. The heavy traffic volume will also make itself felt in neighboring countries. You need patience especially on the classic holiday routes Brenner, Inntal, Tauern and Rheintalautobahn as well as on the Swiss Gotthard route. But also on the long-distance roads from the Croatian coasts towards Germany.
At first glance, this Porsche Taycan looks more like a Polo Harlequin. In the 1990s, VW wanted to use this to show off its modular design.
More
When entering the country, waiting times are to be expected at the border crossings in southern Germany.