TOKYO TIPS & SIGHTS FOR YOUR TRIP TO JAPAN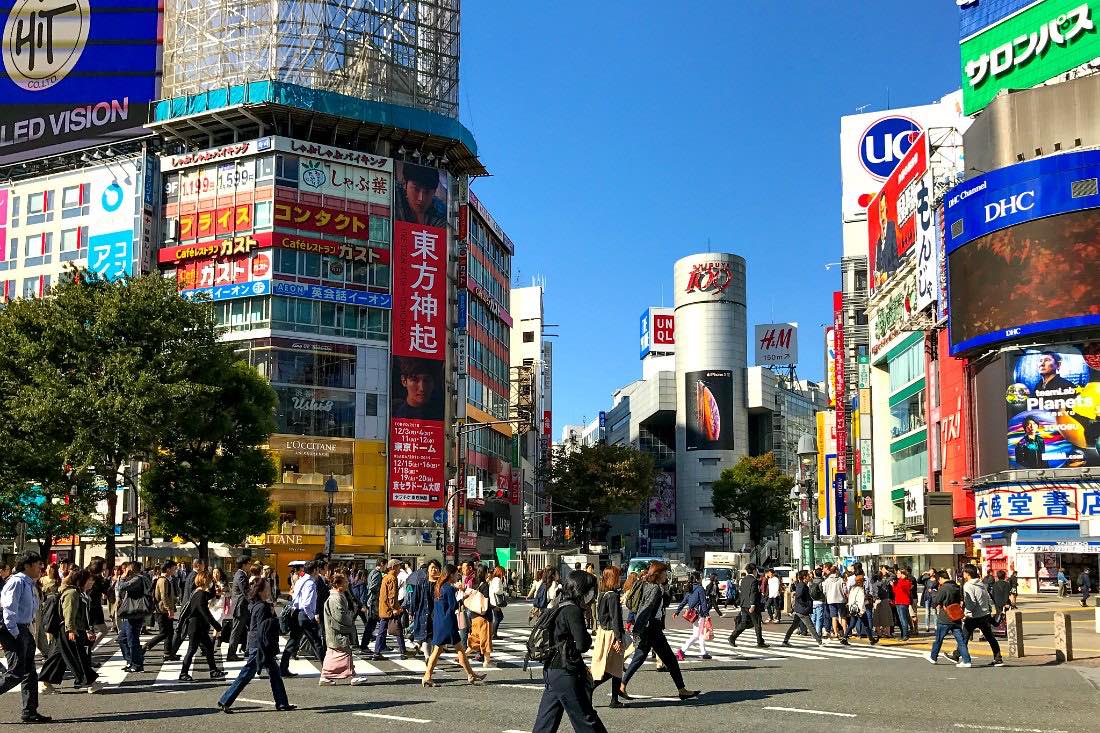 Traditional, super modern and crazy – Tokyo is all of this. The largest city in the world has many highlights to offer, such as old temples, the second tallest building in the world or brightly colored themed cafés. I was in Japan's capital with its approximately 38 million inhabitants for the second time. In this article, I share my best Tokyo tips with you and introduce you to must-see Tokyo attractions! I also give you tips on travel planning, flight, hotel, shopping and food.
Individual Tokyo trip without knowledge of Japanese?
Do you prefer to travel individually, like me, on your own and without a tour guide? No problem in Japan! At least in the places I've visited.
I was in Japan for the first time during my trip around the world. Within three weeks I visited Tokyo, Kyoto and Nara. I planned the route with the Lonely Planet travel guide Japan  (link to Amazon) .
This time I experienced the beautiful nature, culture and onsen baths with their hot springs in northern Japan . Before that I spent four days in Tokyo, because from here I took the train to northern Japan.  
Finding your way around Tokyo
In Tokyo I used a local SIM card, so I had mobile internet on my smartphone. At Get your Guide – I often book my tickets and tours with them – you can also  borrow a SIM card  or a mobile WiFi router .  
This enabled me to use  Google Maps , among other things , which was very helpful. It showed me, for example, from which platform my train was leaving or which exit I had to take at the station.
I still remember how excited I was before my first trip to Japan. As I approached, my heart beat faster as I looked out over Tokyo from the plane. Because I thought nobody would understand me. I didn't have any appreciable knowledge of Japanese then, nor do I have it now. Except for the usual phrases for "hello" or "thank you".
But even then I noticed how extremely helpful the Japanese are. I always found someone to help me in English or with gestures.
 In Tokyo, a lot of this is signposted in English as well as in Japanese characters .
Japan Travel: Is Tokyo an Expensive Travel Destination?
Japan is considered one of the more expensive travel destinations. Yes, you can spend a lot of money here. But you don't have to.
Tokyo Tips:
My capsule hotel  The Millennials Shibuya  (link to Booking.com) in the popular Shibuya district cost just 18,000 yen (around 145 euros at the time) for three nights.
There is cheap food B. in food courts of department stores or train stations.
Local public transport is punctual, fast and cheap. I didn't have to take a cab.
Tokyo Tips: Best Travel Time & Duration
Did you know that Japan is the fourth largest island country in the world? The capital, Tokyo, is located on the main island of Honshu.
I recommend spring or autumn for your visit. It can get hot here in the summer.
The first time I was in Tokyo for a week in May . Second visit in October for four days. After that I traveled on to other destinations in Japan.
In both months I experienced pleasant temperatures of around 20 degrees . However, in autumn I had everything from sunshine to cloudy skies to rain.
I would love to come back to see the cherry blossoms in Tokyo in March or April . In autumn I saw the first colorful leaves on the trees in the park.
Tokyo tips: I recommend planning three to five days in Tokyo . There is so much to see, experience and try! From traditional to hyper modern to crazy.
Tokyo flight: non-stop from Dusseldorf
You can get return flights to Tokyo for less than 600 euros .
My home airports are Cologne and Düsseldorf. Düsseldorf is home to the third largest Japanese community in Europe, after London and Paris. The only Japantown in Germany is located here near the main train station. I always eat there when I have an appetite for Japanese food.
My non- stop flight with All Nippon Airways (ANA) lasted a little over eleven hours. I flew back via Munich.
By the way, here you will find my 17 tips and tricks for long-haul flights  and my packing list for long-distance travel .
The almost fully booked outbound flight took off at 8 p.m. We landed in Tokyo at 2:30 p.m. local time (+ 7 hours our time).
Tokyo has  two airports, Haneda and Narita . I landed in Narita and flew back from Haneda. I prefer Haneda because the airport is easily accessible by train.
Tokyo Tips: Entering Japan
If you enter Japan as a German tourist for up to 180 days, you do not need a visa .
You can always find the current entry requirements at the Federal Foreign Office . Please inform yourself there again.
It took me about 30 minutes to enter Tokyo-Narita. A photo was taken of me at a machine and I gave my fingerprints. I filled out the immigration and customs form on the plane.
At the counter, the officer stuck the 90-day landing permit sticker in my passport.
From Tokyo airport to the city
Narita is about 60 kilometers from the center. There are various options for transfer, such as by train or bus.
Since I was tired upon arrival and didn't want to transfer my luggage, I took the Narita Express train . In 1.5 hours I was in Shibuya. From the train station it was only about 400 meters to my hotel The Millennials Shibuya  (link to Booking.com). 
I took the train back to Haneda , which took about 45 minutes.
Tokyo travel planning tips
How can you see as much as possible in a short time? In addition to travel guides , I also use travel blogs (here you can find the 50 best travel blogs ), Instagram and Pinterest for inspiration and information .
I did it like this:
Centrally located hotel: My capsule hotel  The Millennials Shibuya  was just a few steps from the Shibuya intersection and the train station. I always took the subway there.
Traditional, modern or weird Tokyo: The city offers so many exciting facets. I wanted to experience the whole spectrum. From ancient temples to state-of-the-art technology to crazy neighborhoods and cafes.
Planning by importance: Some Tokyo attractions were particularly close to my heart. This is how I saw Shibuya Crossing at different times of the day and from different photo spots. I visited the Tokyo Skytree and Tokyo Tower observation towers on the second day because the weather was great. And promptly the next day it got worse and it rained.
Tokyo sights by district: I sorted the highlights so that I could view them all together. From Shibuya I was able to get to Harajuku and Shinjuku pretty quickly. It only took me 45 minutes by train to get to the Skytree, which was eleven kilometers away.
Stay flexible:  In the morning I decided on the final program for the day according to my mood and the weather.
On the way in Tokyo
Tokyo has the busiest subway system in the world, with over three billion passengers a year. The different lines are easily identified by their names and colors. In the subways you will find maps, the stops are displayed in Japanese and English.
Do as I do and get the Suica or Pasmo Card. You can use the rechargeable card for local public transport.
Tokyo tips: The best tours
I plan and undertake many city trips myself, but I often book tours as well. These here at Get your Guide sound good:
Day ticket hop-on hop-off sightseeing bus : With this you can explore Tokyo at your own pace and discover many sights. Enjoy the view from the double-decker bus, get information about the audio guide and hop on and off on all routes as you wish. Route 1 takes you z. B. to Tokyo Skytree, Senso-ji Temple and Akihabara. Route 2 includes Tokyo Tower, for example.
Tokyo with a local guide : With your guide you will discover exactly the parts of the city that interest you most – in 2, 4, 6 or 8 hours. This way you can explore places off the beaten track and get tips on what you should definitely do in Tokyo.
Fashion and Culture in Harajuku: Guided Tour . For me, one of the most exciting districts in Tokyo is Harajuku with its youth culture and unusual fashion. You will experience a guided tour of Takeshita Street and visit the Kawaii Monster Café.
1) Tokyo Attractions: Capsule Hotel
Can a hotel be a tourist attraction in itself? Definitely in Tokyo! Because here I stayed – as on my first visit to the megacity – in a cheap capsule hotel .
You have to think of it like a hostel dormitory . Instead of normal bunk beds, however, you will find capsules in them. Depending on the hotel, these are sometimes very narrow or more comfortable.
Since I suffer from mild claustrophobia, I chose The Millennials Shibuya  with large capsules. Plus it was perfectly located in Shibuya , had great reviews on Booking.com and looked great in the photos . In the picture above you can see the living room.
It was nice and quiet (except for the girl who had to blow dry her hair at 2am one night) and super clean. My pod was more like a bed with a high ceiling above it, separated from the dormitory by some kind of blind.
I could control the light, alarm clock and fan via an iPod and turn my bed into a sofa . The wifi was very fast.
There was a hanger on the wall that I used to hang my jacket on. Under the bed I had a drawer for my suitcase and a locker for my valuables .
Lavender shampoo and almond shower gel were available in the rain showers. In addition to the showers, I was able to use the washing machine and dryer on the floor.
There were the fun Japanese toilets in the capsule hotel : shy ones can play sounds, the seats are heated and there are various shower functions. Just don't press the wrong button like I did, it could result in a nasty surprise.
On Booking.com you can find more hotels in Tokyo here .
By the way: I have never received so many direct messages on Instagram about a travel destination as I did about Tokyo. Many of you found the city strange, but also interesting or even fascinating. I received a lot of questions about the capsule hotel in particular. I hope I was able to answer them here. Otherwise, please leave me a comment.
2) Tokyo Sights: Shibuya Crossing
Do you know the movies "Lost in Translation" or "Resident Evil 4"? The busiest crossroads in the world occurs there.
Right by Shibuya Station is the intersection famous for its crowds. 3,000 passers-by are supposed to use it at the same time.
I arrived in the neighborhood where my hotel room was in the evening. So I could see the intersection directly with neon lights. With my suitcase it wasn't that easy to fight my way through the crowds.
In daylight, the intersection looked a little smaller than it did in the film. But still impressive!
Tokyo Tips: There is a Starbucks right next to it . On my first morning in Tokyo, I bought a matcha (green tea) latte and sat down by the window on the first floor. The seats are in great demand, because here you have a direct view of the Shibuya Crossing. And you can take photos through the window.
An even better photo spot: the Mag's Park . Here you can drive up for free and admire the intersection from above through the windows of the roof terrace. Isn't that crazy?
3) Tokyo Sights: Hachiko Dog Statue in Shibuya
Just a few steps away is the statue of Hachiko. You may know the film with Richard Gere, it's a heartbreaking story.
The little dog was always waiting at Shibuya Station for his master to come back from work. Even after his death, he didn't stop until he died himself some nine years later.
The statue is very popular, even in rainy weather a small line formed in front of it. People took selfies with the dog.
By the way, there are even buses showing Hachiko.
4) Tokyo attractions: Tokyo Skytree Observation Tower
At 634 meters, the Tokyo Skytree is  the second tallest building in the world , after the Burj Khalifa in Dubai. The television tower was  opened in 2012  .
You can climb to 350 or 450 meters and admire the view . With Get your Guide you get a ticket without queuing , for me it took 45 minutes.
The view is really sensational! However, everything is glazed all around, so there can be reflections when taking photos. And I keep my fingers crossed that you catch great weather like me.
Another observation tower is the Tokyo Tower. It is 333 meters high and painted orange and white as an obstacle to air travel, using 28,000 liters of paint. There are glazed viewing platforms at 150 and 250 meters above sea level .
The Tokyo Tower was built in 1958 , modeled on the Eiffel Tower . At that time it was the tallest television tower in the world.
I arrived at Tokyo Tower just before sunset and waited for dusk. Because it is really impressive when it glows in the dark.
Since I had already been to the Skytree, I saved myself the entrance fee for the tower.
6) Tokyo Sights: Senso-ji Temple and Asakusa Shrine
If you want to experience traditional Tokyo, then you've come to the right place. Senso-ji is the oldest and most important temple in Tokyo. Together with the shrine right next to it, it attracts many visitors.
I particularly like the five-storey pagoda and the large lanterns.
Around it you can buy delicious things to eat at the stalls, such as green tea ice cream or waffles in the shape of fish.
How about a  morning excursion to the temples and shrines? The English speaking bus tour lasts four hours. You will discover the most famous temples, shrines and gardens of Tokyo.
7) Tokyo Sights: Trendy Harajuku district
We went to Takeshita-dori Street for shopping . You see a lot of young people there. Everything is colourful, flashy or glittering. You can buy unicorn hats, heart glasses or rainbow food like colorful candy floss here.
Here I met another blogger at Noa Café  for a waffle. Mine was with green tea ice cream and caramel – so delicious! So I was full for the whole day.
On my first visit to Tokyo on Sunday , I experienced how Harajuku became the meeting place for the cosplay scene . You dress up like an actor from anime or manga.
I also liked the many bands that played in the nearby  Yoyogi Park .
 You can experience fashion and culture in Harajuku on a guided tour . 
8) Tokyo Attractions: Crazy themed cafes
You can discover the weird side of Tokyo with the themed cafés. For example, there is an  owl café , one with vampires or samurai warriors .
Arguably the best known is the Robot Restaurant . A 90-minute show with robots, samurai and ninjas awaits you there. Unfortunately, the timing didn't work for me.
I therefore chose the Kawaii Monster Cafe in Harajuku. So cute monsters… Because "kawaii" means cute or childlike.
I didn't have to queue at the entrance at 3 p.m. on this Tuesday afternoon. When the door to the room opened, I was dazzled by the crazy interior design. It alone is worth the around 20 euros that I finally paid.
You have to reckon with this:
500 yen entrance fee
Cost for a drink and a meal
Food and drinks were very expensive: the cheapest meal was 650 yen, the cheapest drink was 700 yen. So with taxes I came up with 2,530 yen.
Everything was beautiful to look at, not just the decoration. My monster cake was nicely decorated and the blue popcorn drink looked interesting. But I didn't really like to eat the colorful stuff. And the muffin filled with jam was rather dry and tasted bland. But surely nobody comes here for the food, rather for the decoration and the show.
At the show, the three monster girls danced for about ten minutes, which seemed a bit tired.
Overall, though, I didn't regret going there. The crazy decor was great and a real experience!
Tokyo tips food
Do you only think of sushi when you think of Japanese food? There's so much more! And not just the sticky-sweet stuff from Harajuku.
Tokyo tips Food: In the city you can order delicious udon noodles, gyoza dumplings, okonomiyaki pancakes or takoyaki octopus balls (see photo above).
My absolute favorite are bento boxes (the Japanese form of a lunch box), which you can get in food courts or supermarkets.
And how about green tea or sesame ice cream for dessert ?
When I visited Tokyo I was not yet a vegetarian . That's why it's difficult for me to estimate whether you can expect a corresponding offer. If you have already gained experience with this: Please leave me a comment! Because I definitely want to travel to Tokyo a third time.
Tokyo Tips: How to order the right food in a restaurant or café? Many have menus in English or the dishes are displayed in plastic.
But it doesn't always have to be a restaurant. I was amazed when I stumbled across the huge food court under the Shibuya Crossing. "Food Show" is the name of this part of the Tokyu department store.
As you stroll through the hall, you will pass many delicacies in glass chests. Here you can buy something, eat it on the spot at a table or later in the hotel. The food courts of the Tokyo Skytree or in the main station are also worthwhile.
I find the vending machine restaurants funny , I've tried one myself. Outside the entrance, I put money in the machine and ordered my noodle soup by pressing the appropriate button. The food was served to me at the table inside.
Tokyo tips: By the way, there are usually not only chopsticks, but also knives and forks on request. But I've got the hang of it with the chopsticks.
Tokyo Tips Shopping
You can go shopping here very well – depending on your taste.
Harajuku is recommended for crazy things . Be it heart-shaped sunglasses, colorful dresses or a sushi keychain.
In the inexpensive Daiso Shop I bought fans, chopsticks and socks with a fish motif as souvenirs. Or how about Green Tea Kit Kats?
Manga and anime fans will be happy in Akihabara  . In "The electric town" – with many electronics shops and neon signs – there is about the 8-story Mandrake Shop for it.