NORTH JAPAN ATTRACTIONS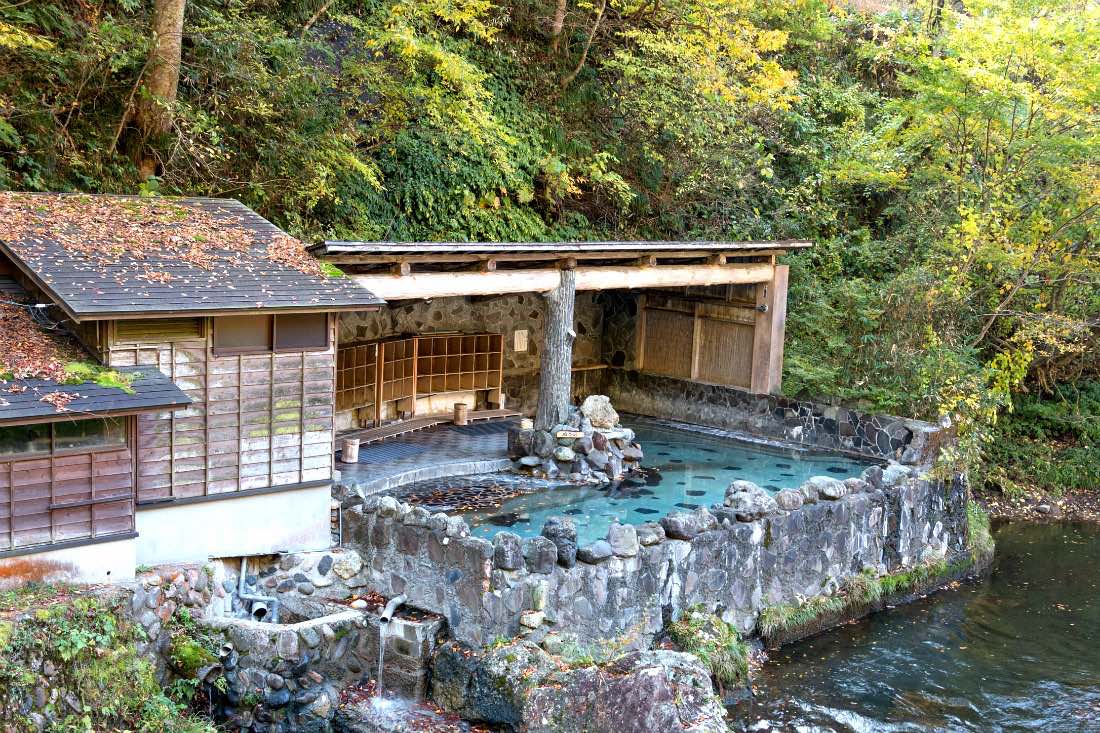 What do you think of when you think of Japan? Of Tokyo, cherry blossoms, geishas, ​​sumo wrestlers and sushi? In about two hours by shinkansen bullet train from Tokyo, you can reach the Tohoku region with its mountains, forests and hot springs. I'll tell you why the trip to northern Japan is worthwhile! And I show you my most beautiful pictures from this lesser known corner of Japan.
Japan Highlights on Honshu
My second time in Japan… The country has over 6,800 islands to offer. Honshu , as one of the four main islands, occupies around 60 percent of the area . During my trip around the world I had already got to know and love Japan with its 126 million inhabitants .
The contrast between ancient tradition and the latest technology is so fascinating . So it is the only country in the world with an emperor . And I'm a fan of oddities like themed cafes, kawaii youth culture and heated toilet seats. I also love food – such as bento boxes, ramen noodles, octopus balls or green tea ice cream.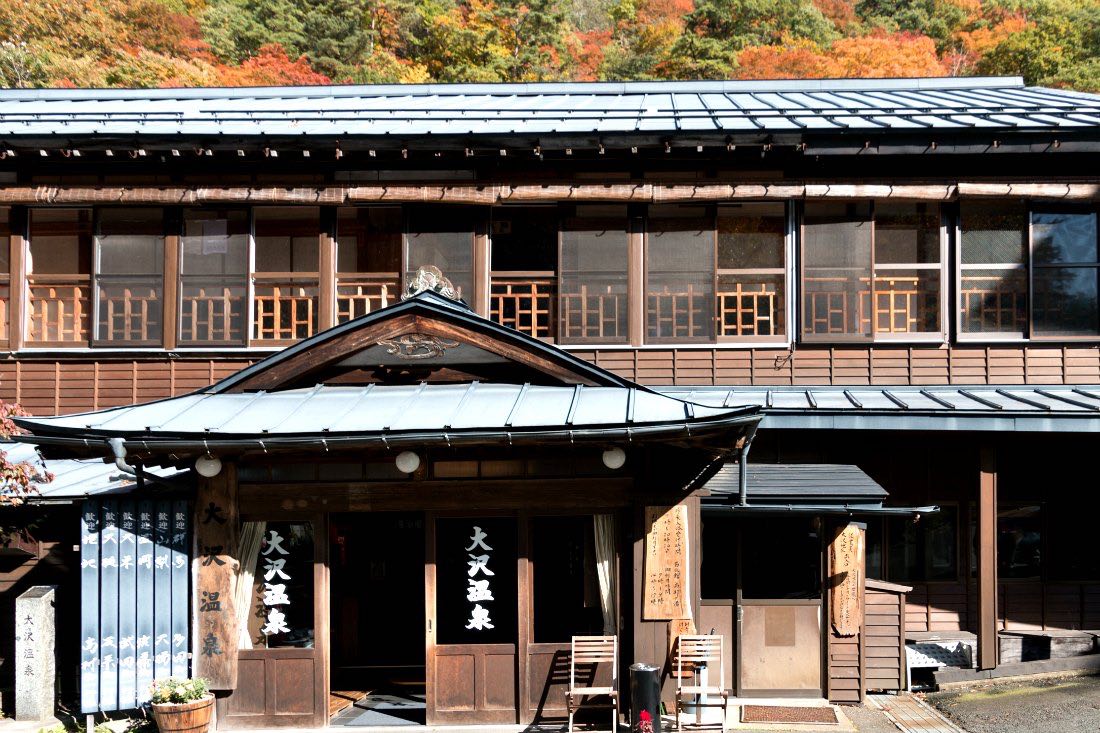 Japan is considered an expensive travel destination. It can, but doesn't have to be. You can get flights from Germany for as little as 700 euros. Accommodation is available in all price ranges, as is the food.
Concerned because everything is in Japanese? You don't have to! I always found someone to help me. The very helpful and polite people are another big plus for Japan as a travel destination.
Thanks to a local SIM card (around 40 euros for 8 days), I had super-fast mobile internet. For example, I was able to use Google Maps or the translation function on my smartphone. When eating, pictures or dishes made from plastic helped.
The first time I traveled to Tokyo (flight time from Düsseldorf: around 11.5 hours), Kyoto and Nara for two weeks – in May . Unfortunately, I missed the cherry blossom in March/April. But I experienced warm, sunny weather. Perfect for a city break.
The second time, I visited Tokyo and the Tohoku region for eight days in October . It is also on the main island of Honshu, in northern Japan, and is easily accessible by train. In autumn I experienced the forests in all their red and gold splendor – beautiful!
By the way, the winter is also worthwhile for the trip. Then you can go skiing in Japan or see monkeys bathing in hot springs amid snow.
Northern Japan Sights: Mountains, Forests & Hot Springs
After four days of hustle and bustle in Tokyo, I took the Shinkansen train. The "Bullet Train" is as fast as our ICE, it can reach speeds of up to 300 kilometers per hour. As the scenery swam by, I read and drank some cold Matcha green tea (so delicious!).
Goal of my Tohoku trip: Discover the region in four days . That meant admiring the autumn forests, relaxing in onsen baths with hot springs, experiencing Japanese culture and trying as much delicious food as possible.
At times we were traveling by bus. And what a view we had there! We looked at mountains and colorful foliage. The bus drivers wore – very chic – hats and white gloves.
Many visitors come to northern Japan in autumn to visit the forests. No wonder, it really is a fantastic sight… You can ski here in winter.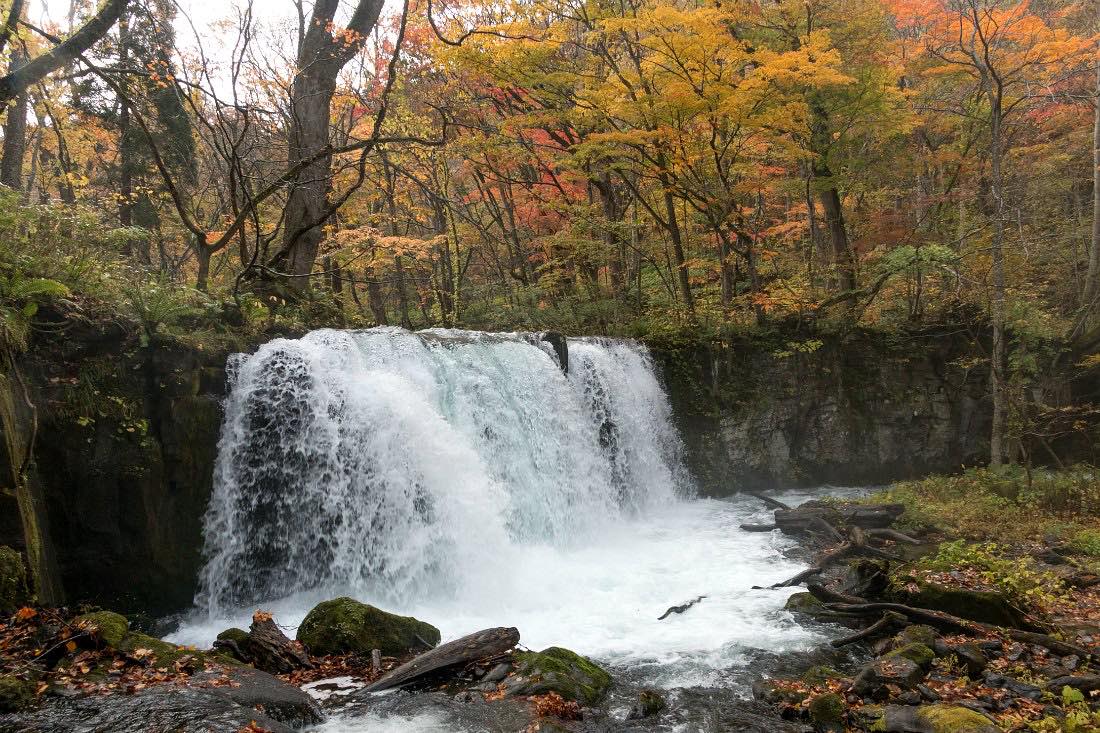 The Oirase River and  Lake Towada  are also worthwhile. The 67 km long river is a frequent photo motif. The lake is the largest volcanic crater lake on Honshu Island.
I was particularly looking forward to the onsen:  These are health resorts or baths that are fed by hot springs of volcanic origin .
The first hot springs were used for bathing 1,300 years ago . It is said that animals who stayed in the onsen in case of injuries drew attention to this.
Ryokan hotel with onsen bath
For the first time I stayed in a traditional Japanese guesthouse, a ryokan . When I opened the door to my room at the Tsukioka Hotel (established in 1644), I entered a large room with low tables and chairs.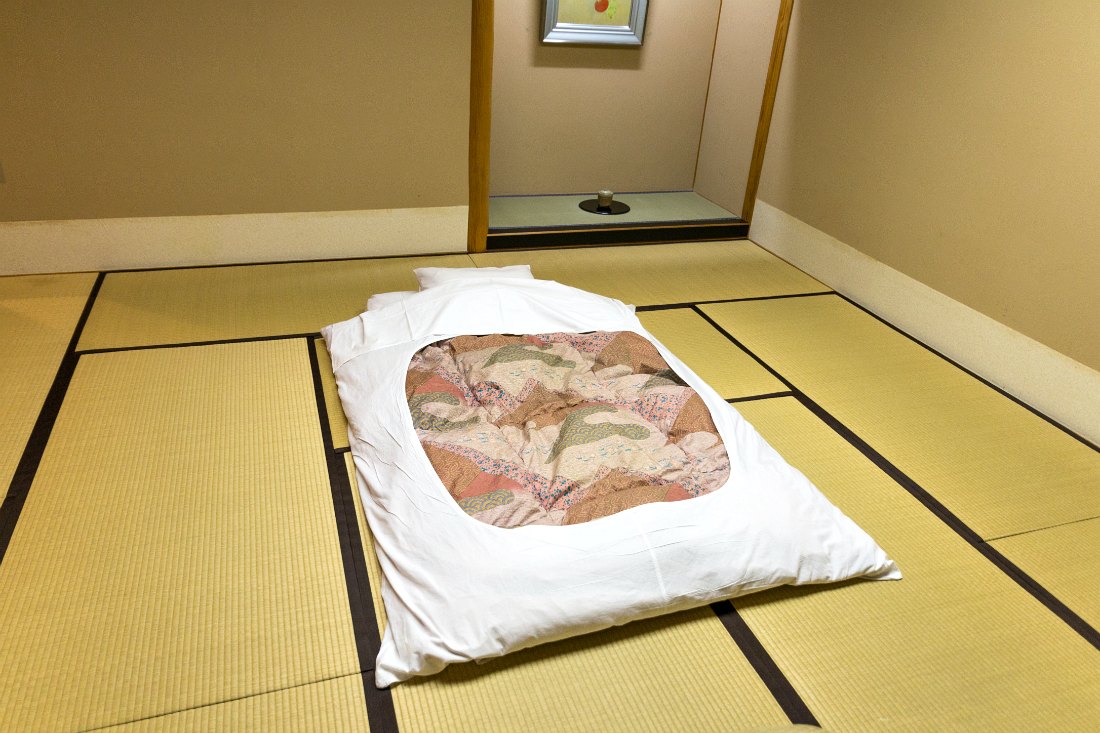 My bed was still in the closet. A hotel employee unrolled the futon mattress in the evening while I was eating. When I came back, I found a cozy bed in the middle of the room. However, I was too hard on one mattress, so I got a second one.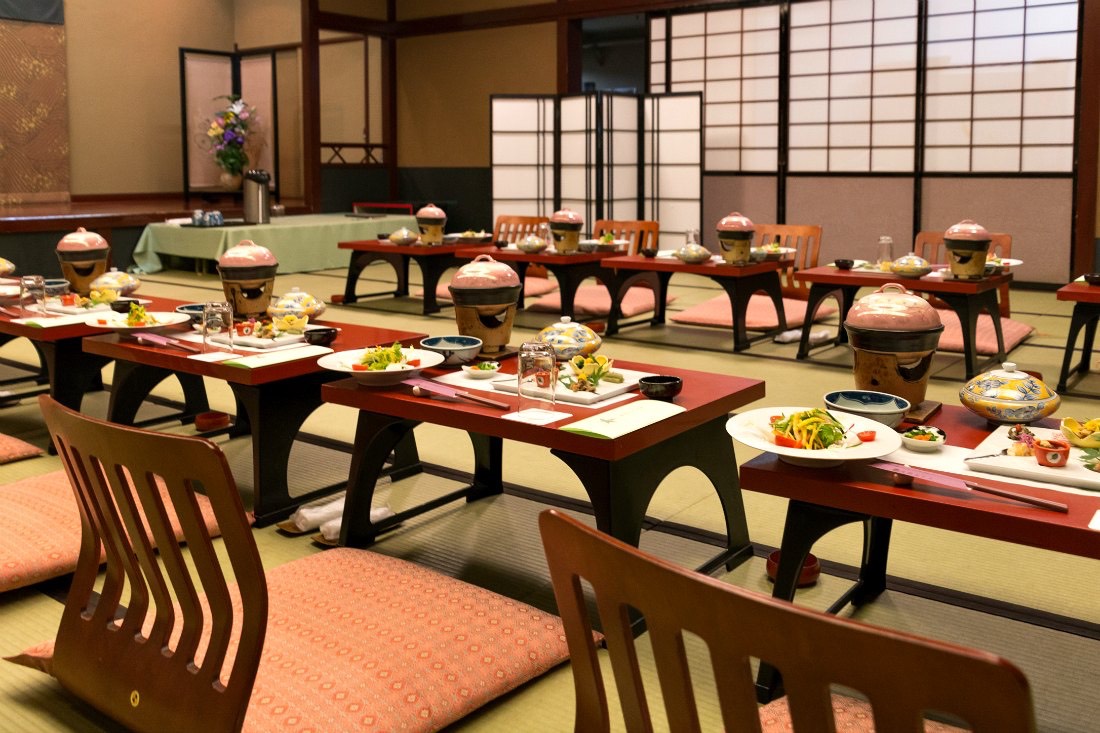 The food was also worth seeing! Low tables were set up on two sides of the room and lovingly set.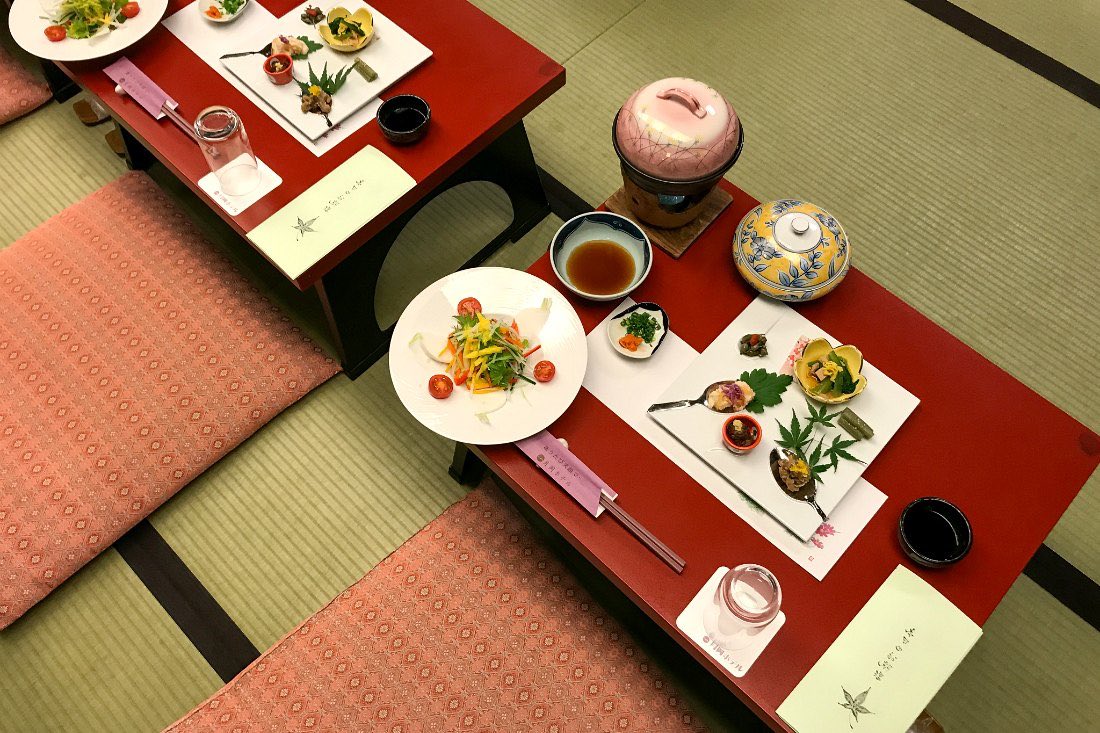 Then there was a special menu with lots of delicious little things.
Did you know that Japanese cuisine is a Unesco World Heritage Site? I like it very much because it is fresh and varied. There's always a lot to try, I'm full at the end, but I've never eaten too much.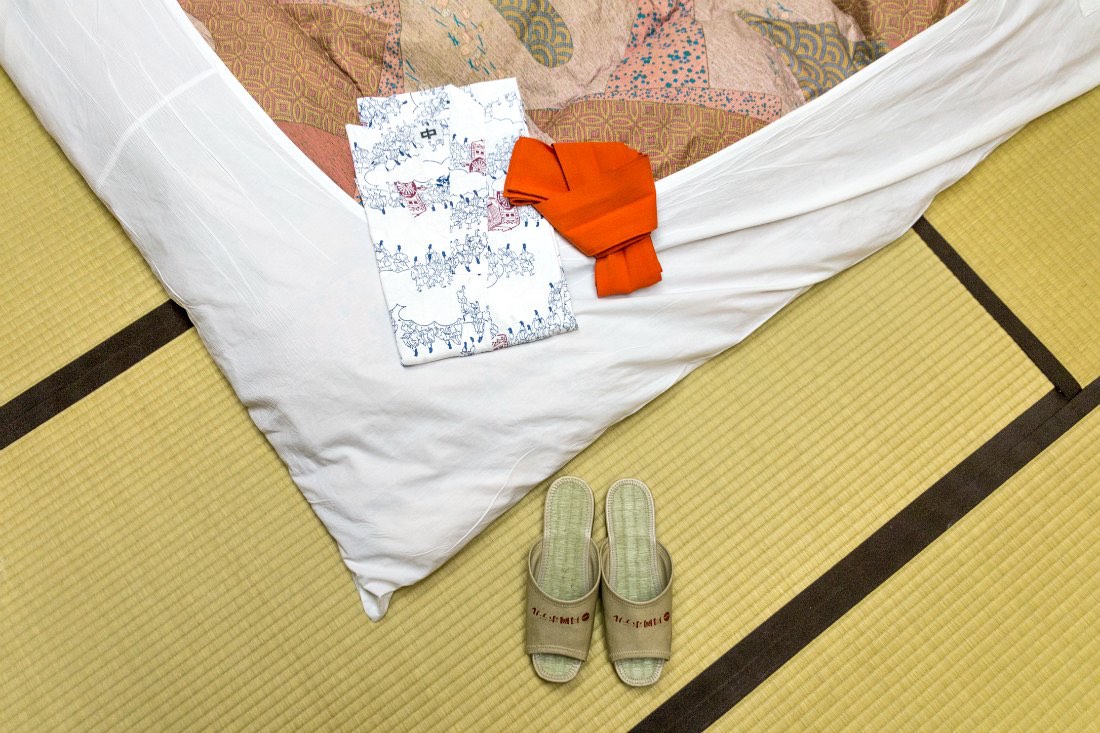 In the ryokan you can eat in a  yukata  . The light kimono was ready in my room. I use it  to visit Kaminoyama Onsen . It's been around since 1458.
Toji are the hot water treatments used in onsen. The mineral-rich water is said to be good for your health. For example, the blood circulation is stimulated and the muscles are relaxed.
Luckily I don't have a tattoo because they're not allowed here. They are reminiscent of the Yakuza, the Japanese mafia. you only have a small one? Then you could cover it with a plaster.
The onsen are mostly separated for men and women. As in a sauna, the visitors are naked.
Procedure in the Japanese onsen
The process is like this:
Leave shoes at the entrance
Taking off clothes in the changing room, putting things away and pinning up long hair
Take a seat on a stool at one of the wash bays. There you will mostly find shampoo and soap. Wash thoroughly with the soap and a small towel and rinse off with the shower head. Do it like the Japanese do: very thoroughly, it can take several minutes.
Then climb into one of the pools.
If it gets too warm in the water after a few minutes, sit on the edge and let it cool down. It's a bit like a sauna.
Incidentally, each onsen is said to have a different healing effect. In the baths there are mostly outdoor and indoor pools . The water is often around 40 degrees warm . While I had an air temperature of up to 26 degrees in Tokyo, it was 12 to 15 degrees in mountainous Tohoku. Mostly with sunshine, only now and then with some rain.
In Tohoku I visited several onsen – from simple to luxurious. Always very relaxing with the calm atmosphere. They are used by hikers all year round, and then by skiers and snowboarders in winter.
you can find everything about the onsen in the Tohoku region, northern Japan .
Hike in the morning
Two words you wouldn't necessarily associate with me. I am a convinced morning and hiking muffle. However, both have already changed due to dog Buddy.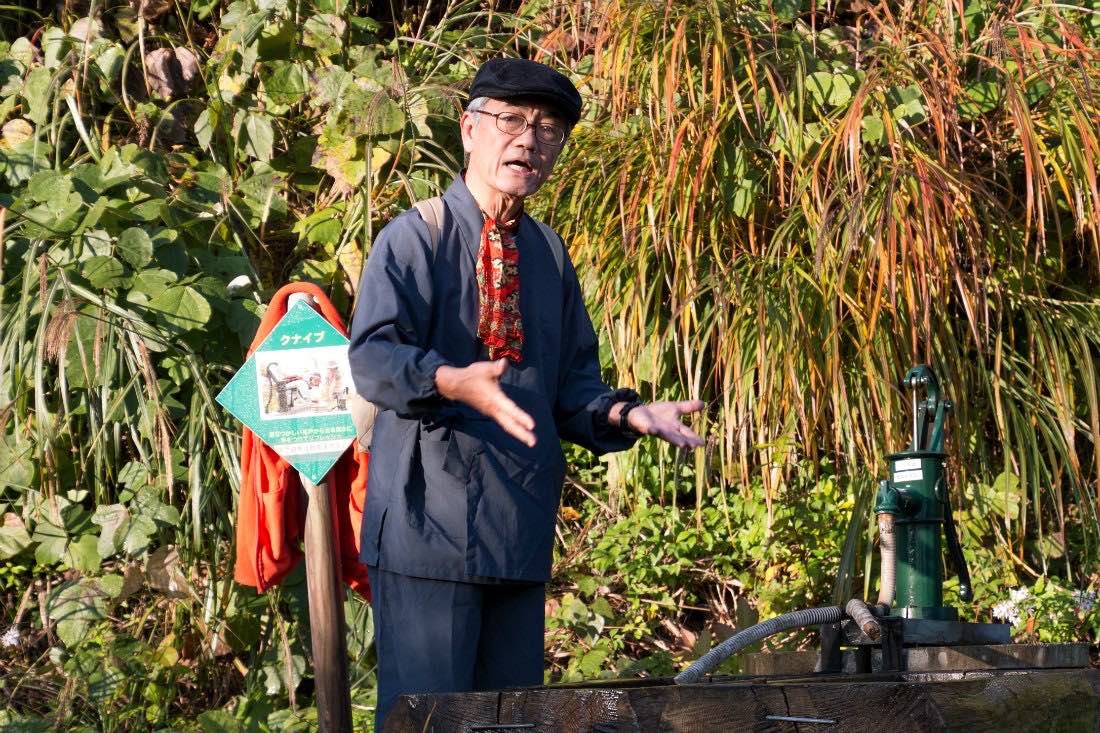 Getting up early in Tohoku was really worth it: our guide led the group with around ten Japanese and visitors up the hills. He explained Kneipp water treatments to us, let us do small exercises and rang the bell in the morning.
In October, autumn showed itself in all its beauty: the mountains lay in the morning fog, the trees with their orange and red leaves stood out picturesquely against it.
I breathed in the cold, clear air – it was only 5 degrees here at 7 a.m.
Experience onsen culture in northern Japan
Osawa Onsen  is housed in a historic ryokan building that is over 200 years old . We got delicious food here. Then we went to the public bath (see also the title picture). We marveled at the view of the river, bridges and trees from the outdoor pool. Like painted…
At Fujisan Ryokan, we dived into Namari Onsen . It is the deepest onsen in Japan, but at 1.80 meters I could still stand in it.
A record attempt was already made in the last onsen: 200 guests used the large, mixed bath at the Sukayu Onsen at the same time. Don't worry, the onsen is usually much emptier. In it, the skin should be particularly soft and white (I'm already rather pale in my natural state).
By the way: Sukayu Onsen in the Hakkoda Mountains (at an altitude of around 900 meters)  is the snowiest inhabited place in the world . On average, around 18 meters of snow fall per year.
Northern Japan Highlights: Handicrafts, Garden & Lantern Festival
In the Morioka Handmade Village  we visited the various huts with the workshops of the artisans.
In one we could make crunchy biscuits ourselves with hot irons. In others we saw heavy teapots, delicate china or a tie-dye artist at work.
Do you like the Japanese gardens too? The Fujita Memorial Garden  was opened in 1919 and is really worth seeing! In the garden you can see beautifully shaped trees, koi carp and a waterfall.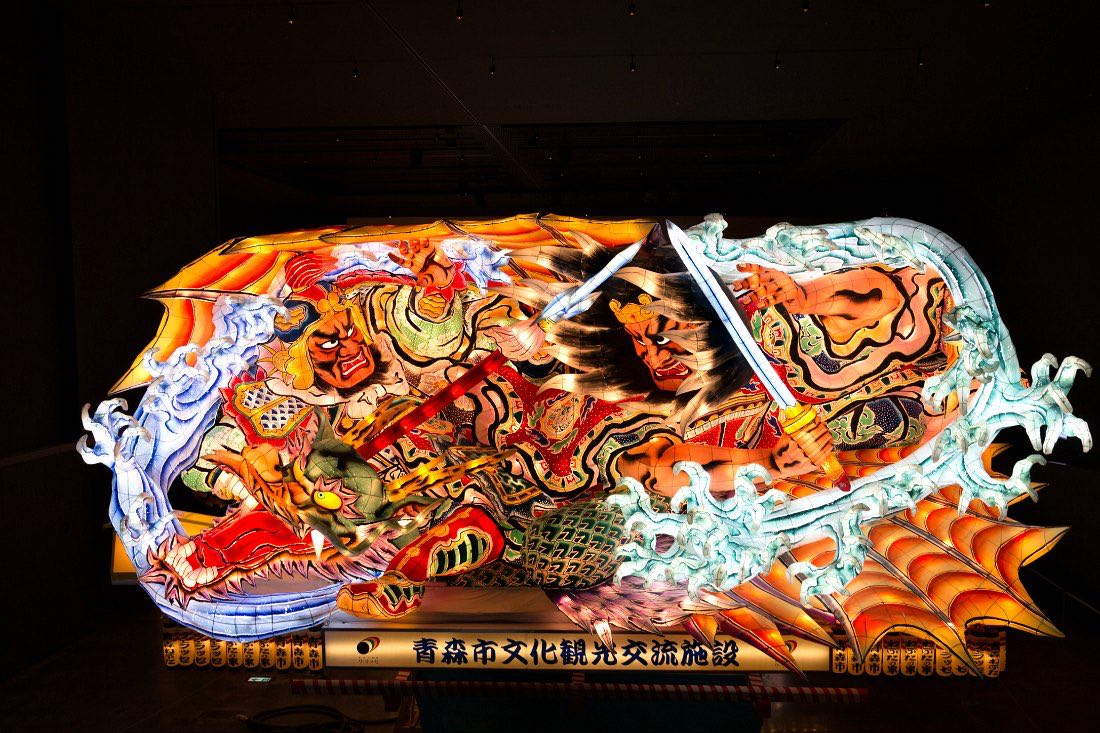 Then the Nebuta Museum Wa race  was on the program. The colorful summer festival takes place every August in the port city of Aomori. Several million spectators watch as the illuminated lantern floats drive through the streets at night, accompanied by music and dancing. As a Rhinelander, it reminded me a little of the Cologne carnival.
Eating out in northern Japan
Great Fun: Eating Soba Noodles . We visited the Hatsukoma restaurant in Morioka. Nothing else is served here.
We took a seat at the long table. The waitresses each filled a mouthful of noodles into the small bowls that we held out to them. Eat up quickly. Everyone stacks the empty bowls in front of them. And hold out a new bowl.
It was really "All you can eat". The waitress explained: "If you have more than 50 empty bowls you are a whole man, if you have more than 100 you get a small gift."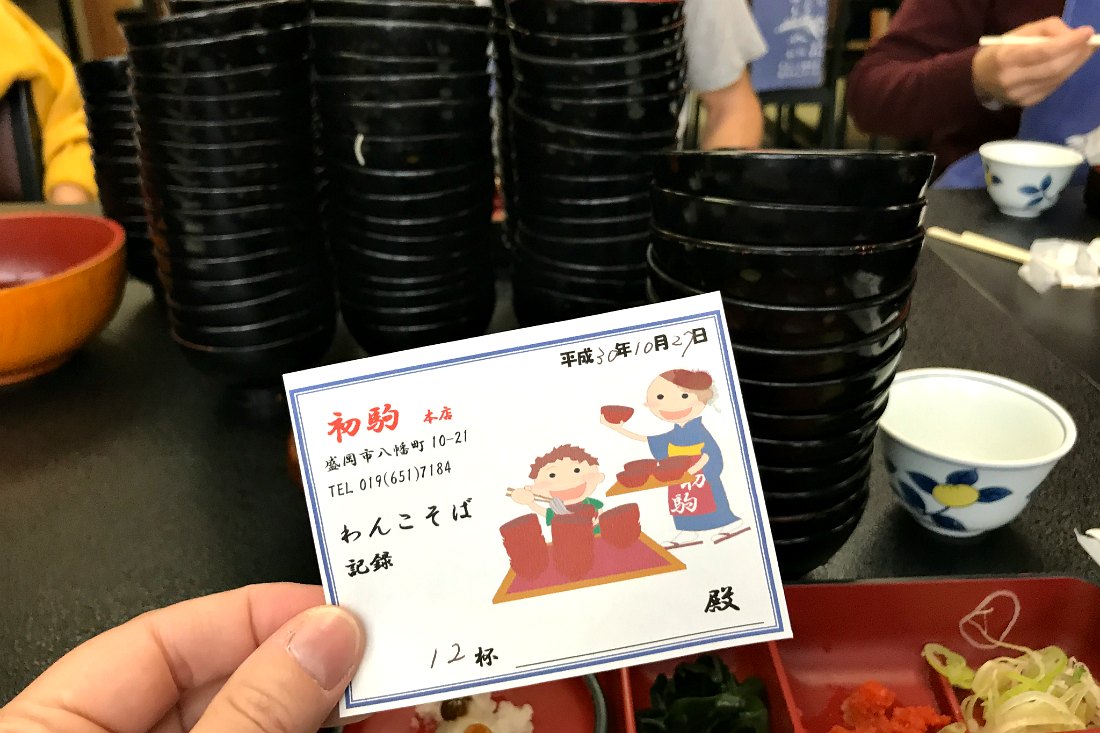 I manage a whopping 12 bowls. But two of us women more than 100. Also two of the men…
Japanese pubs are called "Izakaya". White lanterns covered the whole front of the pub when we entered in the evening. There we were assigned a small room with our group. We sat down at the low table and tried many little things. For example my beloved okonomiyaki pancakes, raw squid (not quite my cup of tea) or edamame beans. We drank beer and sake with rice wine.