Hiking outfit: Prepared for trekking from head to toe
On Schuster's pony
The perfect hiking outfit: prepared for trekking from head to toe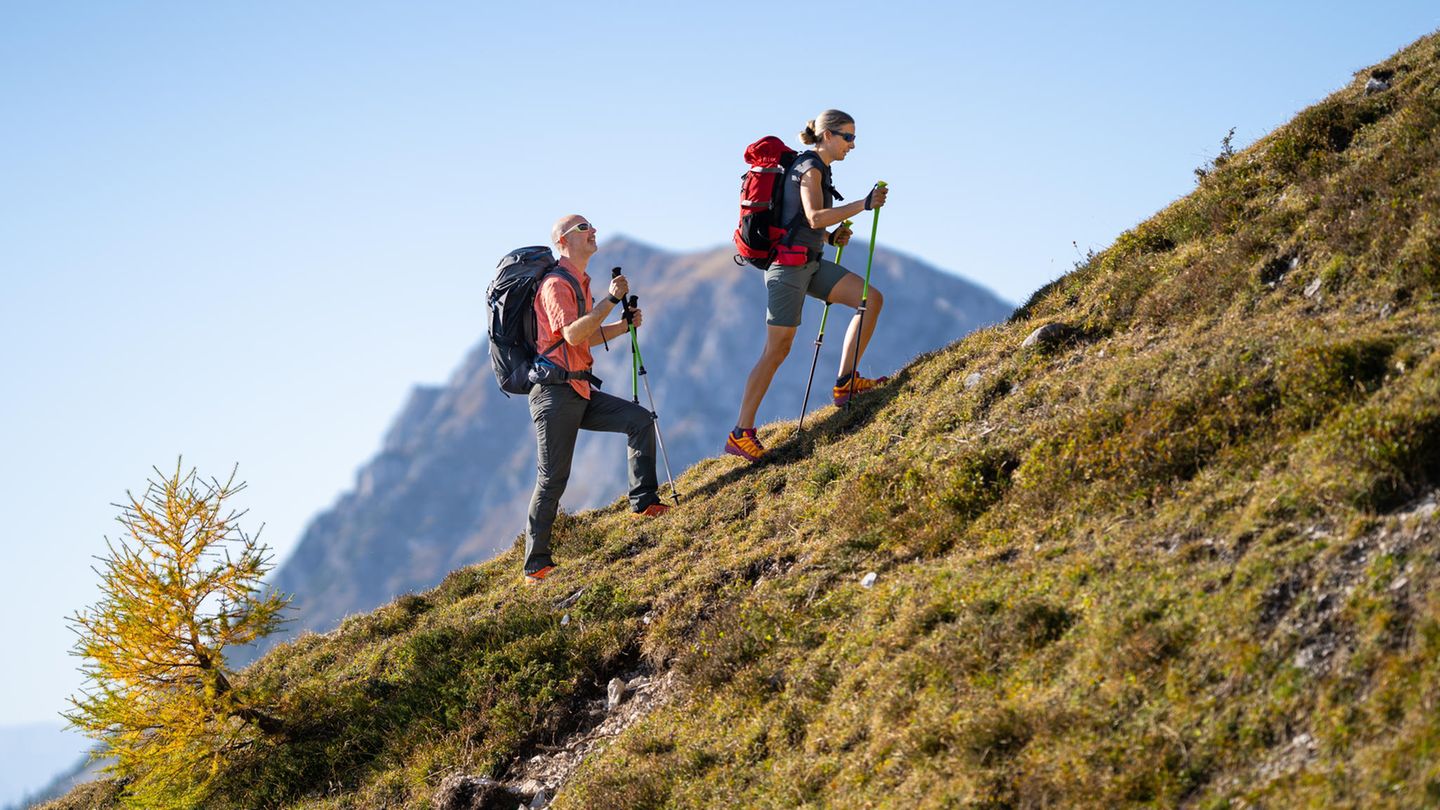 Trekking trails are not catwalks. And a hiking tour in the Alps is not a fashion show. A hiking outfit should work first and foremost. From socks to hiking hats – for adults and children. If it also looks good: all the better.
There is no such thing as bad weather – just the wrong clothes. This applies to everyday life, but also to all other adventures in the fresh air. Whether on a bike or on foot: If you dress appropriately for the season and the temperatures, you don't have to fear the wind or the weather. This also applies to footwear, especially when hiking. Flip flops belong on the beach. Apart from this dangerous bad habit, the number one dress code for popular sport is: Anything that pleases and is comfortable is allowed.
Hiking outfit: socks and shoes
It doesn't matter whether you want to climb your first 3000m peak, conquer the local mountain behind the holiday apartment with the children or take a multi-day hut tour with friends: your feet will carry you to your destination. Therefore, you should cherish and care for them. Those who save on shoes (and socks) often pay for it with blisters and pain. For short excursions and day hikes, for example in the local low mountain ranges, a simple hiking shoe with a grip sole is sufficient. Depending on personal taste, ankle-high (like this one CMP model) or in the low-cut version (like this children's hiking shoe from Salomon).
Shoes for shorter tours do not necessarily have to be water-repellent or even completely waterproof. The situation is different for multi-day adventures in alpine terrain. Protective membranes such as GORE-TEX are mandatory for footwear here. In the mountains, the weather can change within minutes. In addition, there could still be snow in some passages near the summit. And hikers should definitely avoid wet socks and feet. The matching mountain boots (like this one Salewa women's model) usually carry a little more weight, but the stiffer sole and the high shaft offer twice as much better grip in rough terrain.
Hiking shoes have a small but indispensable partner that comes in a double pack and completes the overall package on your feet: hiking socks. It should keep the wearer's feet warm in cool hiking temperatures and, above all, dry in summer. Good models are slightly reinforced on the heels so that the foot sits perfectly in the shoe uphill and downhill. In the case of Falke, the indications TK5 (light protective pads), TK2, TK1 and TK4 (extra strong protective pads) show how strongly the socks are padded. As a rule, they consist of a wool-synthetic fiber mix, which enables the balancing act between good heat insulation and the important moisture transport. Here's a pair of trekking socks from Falke.
Hiking pants: This is important underneath
It sounds banal: But jeans are out of place when hiking, no matter what the height. They don't meet either of the two most important criteria that characterize good hiking pants. Hiking pants should be breathable and give your legs enough room to move. Otherwise it pinches and pinches very quickly. And it doesn't have to be. Bargain foxes swear by so-called zip models. They can be changed from long trousers to trekking shorts and back just as quickly in just a few simple steps. (Here's a pair of zip pants from Maier Sports) If the weather is rather cool for the day of hiking, stay tuned. If you want to aim high, you can also wear long underwear or tights. Both can later save space in the hiking backpack be stowed away. For mountain tours in summer, the short variant (here is a model from Vaude) to get voted. It should also be made of breathable material and sit comfortably. As with the long or zip-up version, there are a number of practical pockets in which you can store your ID and some cash for the obligatory stop at the hut, for example.
A good hiker checks the weather forecast for the day in the mountains before setting off. Depending on the risk of precipitation, waterproof rain trousers (like this one by Helly Hansen) end up in the luggage. For multi-day tours as well as for day trips. Important: You don't have to win a fashion award with this. Only the function and the smallest possible packing size count here. You can get tips for practical hiking accessories here.
Underwear, shirt and jacket: that's what really matters
If everything fits underneath, hikers and hikers can devote themselves to the B grade in their hiking outfit. Because when it comes to outerwear, almost anything is allowed. The most important rule: clothing should be chosen so that the upper body does not cool down and sweat is reliably transported away from the skin. In the transitional seasons of spring and autumn, the three-layer look is therefore important baselayer (depending on the weather, sleeveless, short- or long-sleeved), hiking shirt, hiking shirt or hiking blouse and a jacket or (soft shell) vest.
Anyone who lives in rainy regions and often hikes there will often not be able to avoid a hard shell jacket for layer number three. The membranes processed in it reliably protect against constant rain and wind. Thanks to ventilation slits, the somewhat rougher hard shell variant (here is a men's model from Mammut) usually also breathable. Softshell jackets are the somewhat cheaper (and more comfortable) counterpart. They are coated and also reliably repel wind and water. But if it rains continuously, they give up at some point. In the summer months, a light softshell vest is a good option to avoid catching a chill on the first few kilometers in the morning. Basically, having a jacket in your luggage is never a mistake. Even a thin windbreaker can protect you from the cold on the summit. And if you still have some space in your backpack, it is best to take a spare shirt with you. Because when it's dry, the descent is twice as much fun.
Hats off: How best to protect your head
Because the sweating body emits most of its heat through the head, this should not be forgotten when hiking. In cool weather, a thin fleece or functional hat is sufficient. This keeps your head and ears warm without overheating. In midsummer, UV radiation is the hiker's greatest enemy. A wide-brimmed hiking hat or a Sun hat with extra neck protection. With both variants, make sure that the materials are breathable and the Ultraviolet Protection Factor (UVP) is 50 or 50+.
The times when hiking was considered a dusty pastime for pensioners are long gone. More and more families are drawn out into nature in spring, summer, autumn and winter. And that's good. Oh yes, what should not be missing in a hiking outfit is a smile on your face.