Hand luggage backpack: These models are recommended
Ideal for backpackers
Carry-on backpack: These models make it easier to fly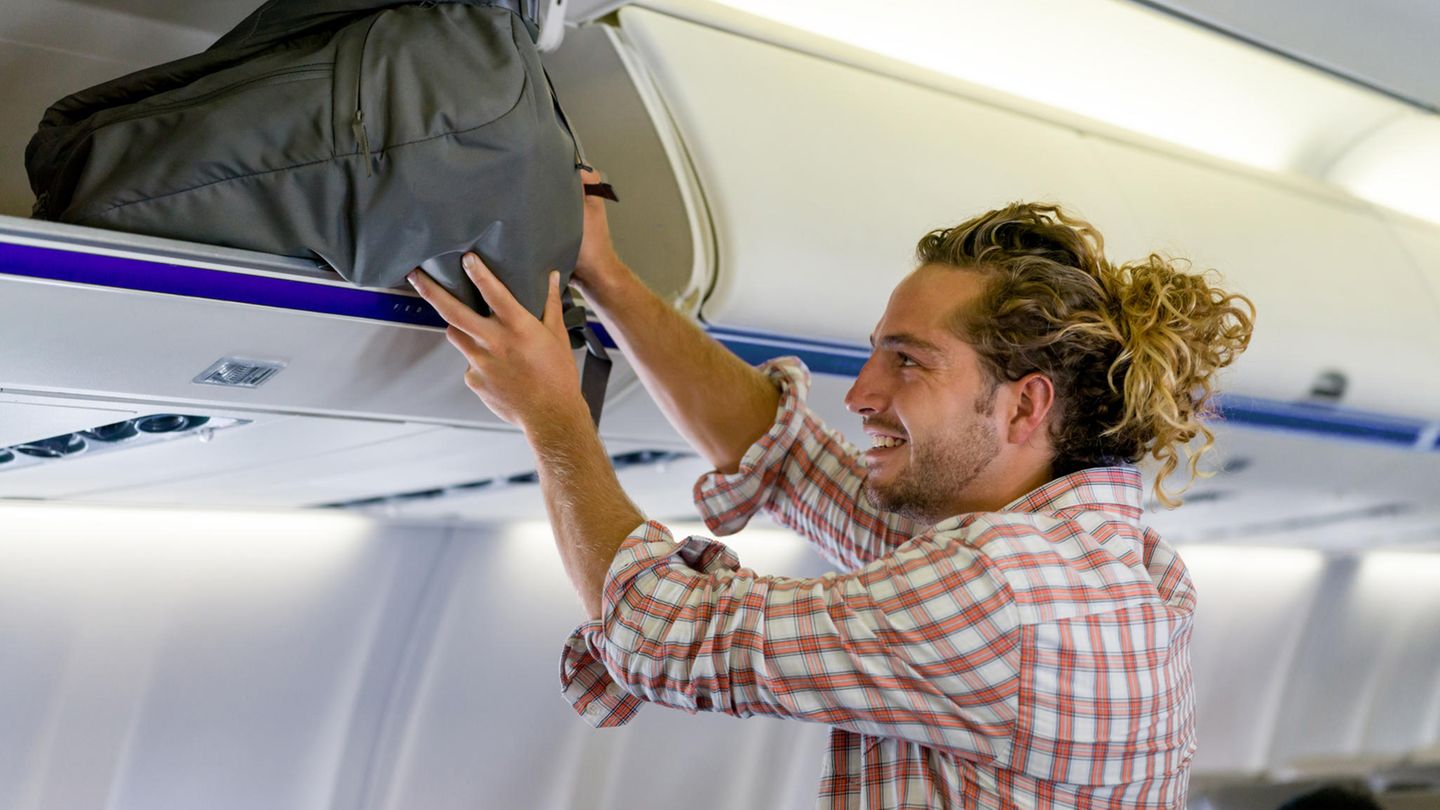 Depending on the type and scope of a trip, bulky luggage can be a nuisance. In order to save time and nerves, backpackers in particular use a rucksack. In order for this to be allowed to be checked in as hand luggage on the plane, it must meet certain standards. We have summarized what they are and what you should pay attention to when buying.
A backpack is the ideal companion for both long and short journeys: either as the only piece of luggage or as a useful addition to the rest of your luggage. In contrast to a suitcase, this does not have to be dragged behind you and handed in at the flight counter, instead it is simply carried on the shoulders and can even be stowed in the hand luggage pack – provided it complies with the norm. This can vary depending on the airline. For this reason, we will explain the most important basic rules to you and give you valuable tips on what to look out for when buying a hand luggage backpack.
Important criteria for a travel backpack
There is no question that a backpack needs to sit comfortably on your back in order to be fully loaded and pain free for long periods of time. The wearing comfort is also supported by padded shoulder and lap belts, which distribute the weight evenly. However, that is not the only criterion you should pay attention to. The most important include:
The size: If you want to take your backpack with you as hand luggage, you should stick to the maximum permitted dimensions, which are the same for most airlines. In any case, it is always worth taking a quick look at the website of the provider before you decide on a model. Hand luggage is often not measured at the airport, so you shouldn't have any problems if your backpack seems to fit the norm.
The weight: Depending on the manufacturer, a backpack weighs differently: Light models weigh around 700 grams, heavy ones up to 1.7 kilograms. Even if hand luggage is not usually weighed at the airport, you should take the weight into account when calculating the maximum load capacity of your back. Especially when you have to carry your hand luggage backpack over long distances, every kilo makes itself felt more or less.
The function: In contrast to a classic backpack, the hand luggage can be opened like a suitcase. This is particularly useful when packing. In addition, those models are particularly comfortable that have several inner and outer compartments in which you can store documents and small items. If you travel with your laptop, a specially created compartment in the backpack is very useful. Just like lockable zippers.
Hand luggage backpack: 4 models in comparison
1.Osprey Farpoint 40
With a capacity of 40 liters, the Osprey Farpoint 40 a popular carry-on backpack among backpackers. It weighs 1440 grams and has many practical functions such as a large main compartment, an outer compartment (with two compartments) and two mesh compartments as well as a detachable shoulder strap. Due to its high-quality workmanship, it is – according to the manufacturer – particularly durable and stable. Both the back and the shoulder and lap belts are padded, which guarantees a high level of comfort. It is available in different colors and different sizes: S/M and M/L.
2. Inateck
The rectangular one Travel backpack from Inateck has the external dimensions of 55 x 34 x 20 cm centimeters and therefore fits easily into the hand luggage compartment. It has two large main compartments, two compartments in which a laptop or tablet and small items can be stowed, two money compartments, a compartment for hygiene items and other additional compartments. In addition to the two handles, which are intended to increase carrying comfort, the backpack comes with a shoulder strap so that you can also carry it over your shoulder. With a capacity of 40 liters, this model is more suitable for short business trips as well as backpacker trips.
3. Tatonka
The Tatonka brand is also known for its high-quality backpacks: Das "Flight case" model also holds 40 liters and fits in every hand luggage compartment. As with its predecessors, the main compartment can be opened completely to make packing easier. It has an outer compartment in which a laptop can be stowed and an inner mesh pocket. The integrated carrying handles (horizontal and vertical) are intended to increase carrying comfort, the same applies to the adjustable shoulder strap. According to the manufacturer, the hand luggage backpack comes from a fair, social and transparent production by Tatonka.
4. Low Alpine
The carry-on backpack from brings up the rear Lowe Alpine. At just 770 grams, the model is a real lightweight and still holds 40 liters, so there is enough space for your belongings. Thanks to its optimal dimensions (25 x 35 x 50 centimetres), the backpack is suitable for plane trips and offers sufficient comfort for backpackers thanks to the carrying handle, adjustable carrying strap and padded shoulder straps. But the hand luggage backpack is also an ideal companion for short business trips or small road trips if you want to travel by plane and don't need a lot of luggage.
Important: These rules apply to air travel
How big or heavy a hand luggage backpack can be always depends on the airline. There is no uniform rule here. On Wikipedia, for example, there is a small overview of the most well-known airlines, which shows the most important dimensions (and the maximum weight). Alternatively, you can also ask your airline directly what is allowed and what is not. These rules usually apply to most providers:
Number: You can take one large piece of hand luggage on board, such as a backpack, which is stowed in the overhead compartment, as well as a small handbag or laptop bag (a small backpack can also be used as an alternative) – but this should fit in the footwell. Ideally, you should pay attention to the rules your airline specifies when booking so that you don't have to pay anything extra.
Dimensions: The size of a hand luggage backpack is also individual. It is best to drive it if your luggage complies with these dimensions: 50 x 35 x 20 centimetres. Keep in mind that handles and outer pockets as well as wheels (on the trolley) always have to be measured as well. The maximum weight can vary between five and twelve kilograms.