Designer designs double-decker rows of seats for economy class in airplanes
New concept
Designer designs double-decker rows of seats for economy class in airplanes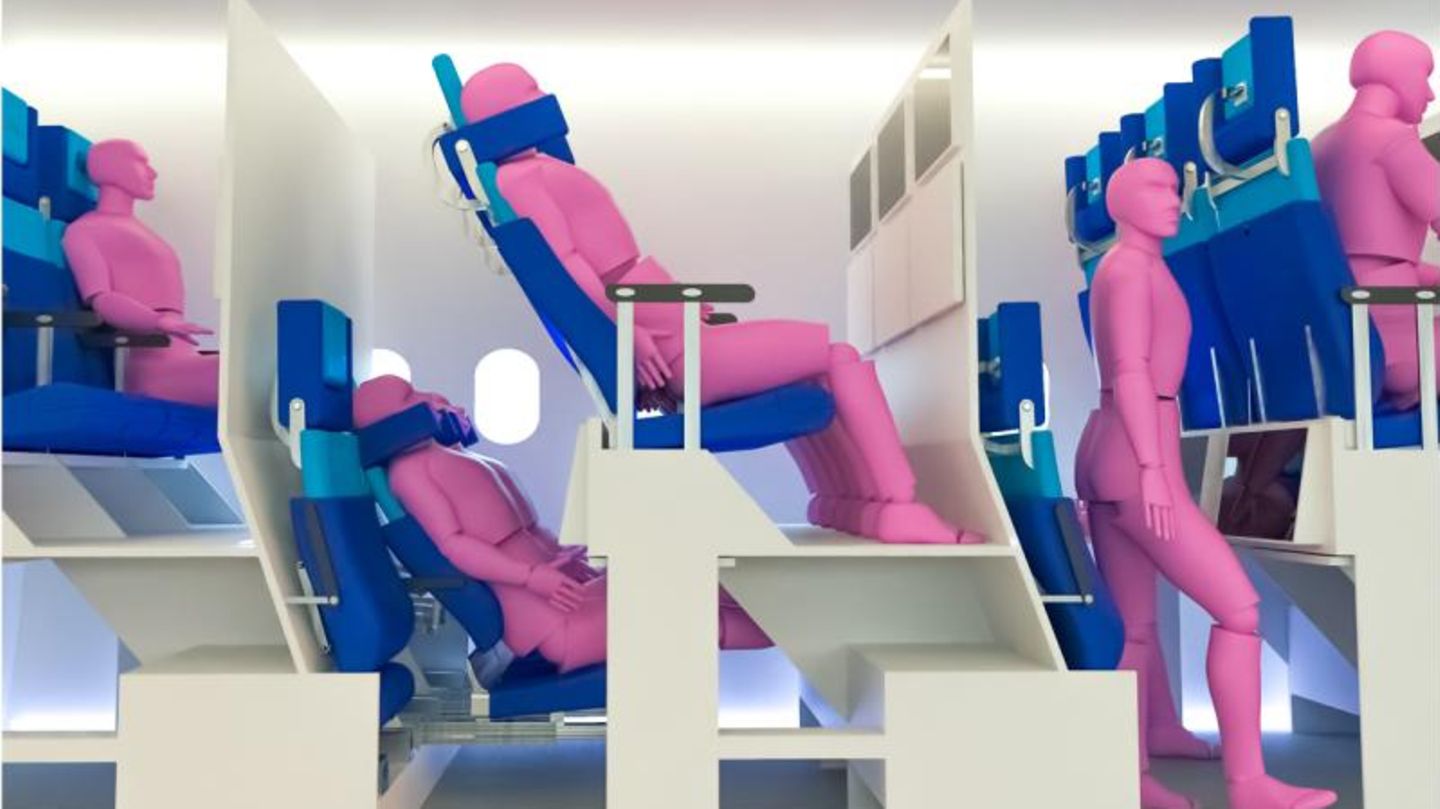 Could the rows of seats in economy class on airplanes look like this in the future? A designer is convinced his double-decker concept will revolutionize air travel.
A young designer, Alejandro Núñez Vicente, firmly believes that his idea has revolutionized travel in the economy class of airplanes. In a small project for his university, the 21-year-old designed the "Chaise Longue Airplane Seat" concept: rows of seats that have an upper and lower offset tier. A very space-saving model.
The project has already been nominated for the Crystal Cabin Award 2021 – an award that is very prestigious in the aviation industry. According to reports from the news site CNN, Núñez Vicente has now interrupted his studies and devoted himself entirely to his design project. An investor, who is not named in the article, gave the young designer a cash injection so that he can continue working on the development of the concept.
Design of the rows of seats
Núñez Vicente presented a prototype at the Aircraft Interiors Expo 2022 (AIX): There is an upper and a lower level, each with 3 seats in the row of seats. A few steps lead to the top tier, where the designer says there's plenty of legroom. There are no longer any storage compartments for hand luggage on the cabin ceiling – in future, luggage can be stowed between the rows of seats in appropriate compartments. There should also be legroom on the lower level – and can even be stretched out, which is an advantage over previous aircraft seat models. Passengers seated in the lower tier have the upper row seatbacks directly in front of their heads, which may cause some passengers to feel oppressed. There are also critical voices in this regard.
Looking at the narrow rows of seats, concerns about discomfort could probably put some people off a trip. In conventional planes, the rows in Economy Class are already narrow. However, passengers still have an all-round view there, which with the new concept would probably only be the case in the upper rows. People who are claustrophobic, very tall, or overweight are more likely to avoid the lower row of seats.
flight cancelled? Trip canceled? This is how you get your rights
Designer is confident
Núñez Vicente is ambitious and confident that his concept could soon become a reality. However, it will be a longer process because there are so many rules and regulations in the aircraft industry that must be observed when designing new aircraft seats. In the future, the seat designer wants to make the structure of the rows of seats even lighter. He hopes to be able to convince other investors or even airlines of his idea.