Combination hunt in Greenland
Greenland is an adventure for the nature lover and hunter in all of us. The nature experience is overwhelming. Something you won't forget for the rest of your life. The hunting area in Greenland is totally untouched. The air is fresh, there are no electricity pylons on the horizon and the only sounds you can hear come from nature itself. At night sparkles with the clearest starry skies you have ever seen – if not for the infinitely beautiful Northern Lights disturbed, which unfold in all their splendor in these latitudes, if one is lucky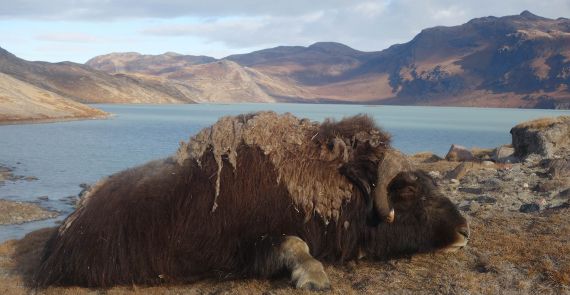 HIGHLIGHTS
Overwhelming experience of nature
Greenland's hunting grounds are completely untouched
The terrain is relatively easy to walk on with differences in altitude of approx. 2-300 m.
The musk ox trophies in this area are among the best in the world. There are also really good reindeer trophies here.
In the past, you couldn't combine musk and reindeer hunting in the same arrangement, but now you can. Our partner organizes an outstanding and well planned combination hunt in a fantastic hunting area.
In the autumn a group took part in the combination hunt and they had the experience of a lifetime with a stay and a very unique hunt that they will never forget.
In terms of trophy, the musk oxen in this area are among the most powerful in the world, for example, they are superior to the Canadian musk.
The area also offers many good reindeer trophies. The living conditions are optimal for both species, because the warm summers and the relatively dry winters with little snow make foraging possible all year round.
The musk oxen around Kangerlussuaq are descendants of 27 musk oxen brought to the area from East Greenland in 1963. The population has grown to several thousand animals and now a number are released for commercial hunting and a limited number for trophy hunting each year.
The reindeer are part of the natural, wild population of reindeer in West Greenland.
Please note that the reindeer are often still in bast during the first part of the hunting season.
The hunters are picked up in Sdr. Strøm and the trip to the camp is made by helicopter – a beautiful and exciting tour!
It is hunted on foot, and sometimes you can use boats or possibly inflatable boats. In addition, there is no other means of transport, so be prepared for a long walk to the game. The terrain is relatively easy, there are height differences of 2 – 300m.