18 THAILAND HOLIDAY TIPS FOR BEGINNERS AND NOVICES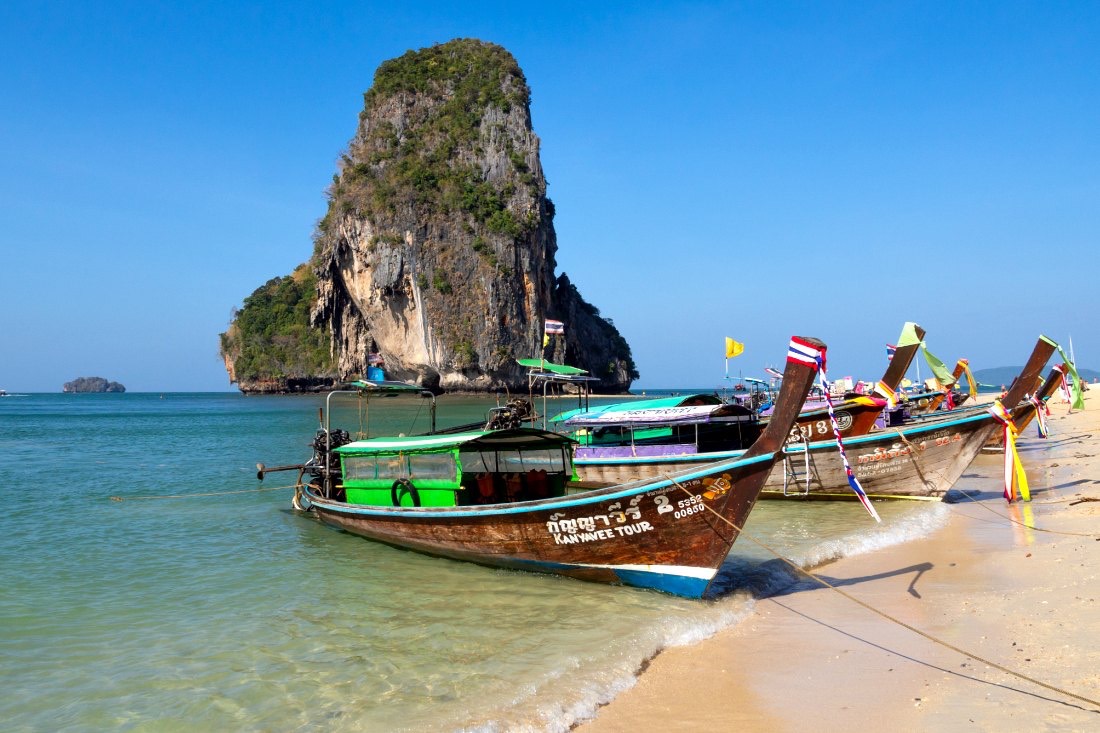 (Updated March 2020) Planning your first trip to Thailand? I (Carsten) went on vacation to Thailand with Anja, we went on a round trip for 2 weeks. Here in the pro-travel blog you will find our Thailand holiday tips on the country, route, packing list, long-haul flight, hotels and food. This is how the Thailand vacation for beginners works smoothly!
Thailand vacation tips: Travel to Thailand for the first time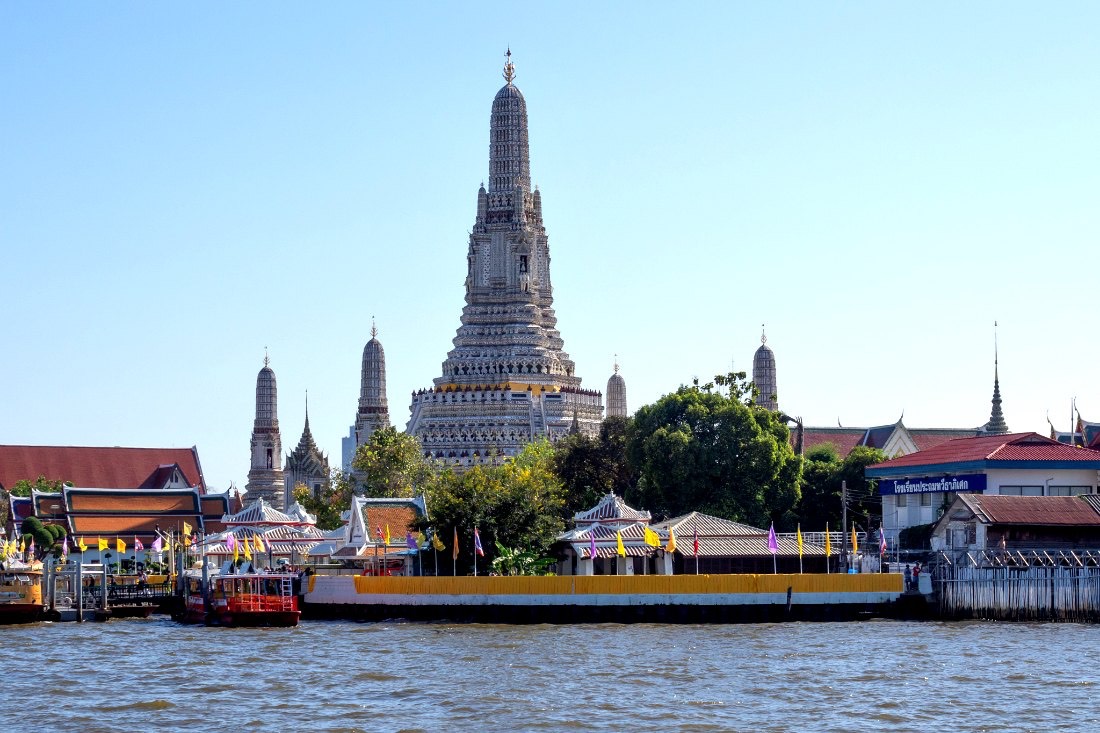 Anja was in Thailand for the first time during her one-year trip around the world, quite classically as a backpacker. After that she returned frequently as a travel blogger, most recently in January/February 2020.
Because Thailand is a great travel destination. Here in Southeast Asia you will find dream beaches, Bangkok as a vibrant city, temples, markets, rooftop bars and delicious Thai food.
She took over the travel organization for both of us: she booked the flights, hotels and excursions individually.
Thailand tips for your perfect route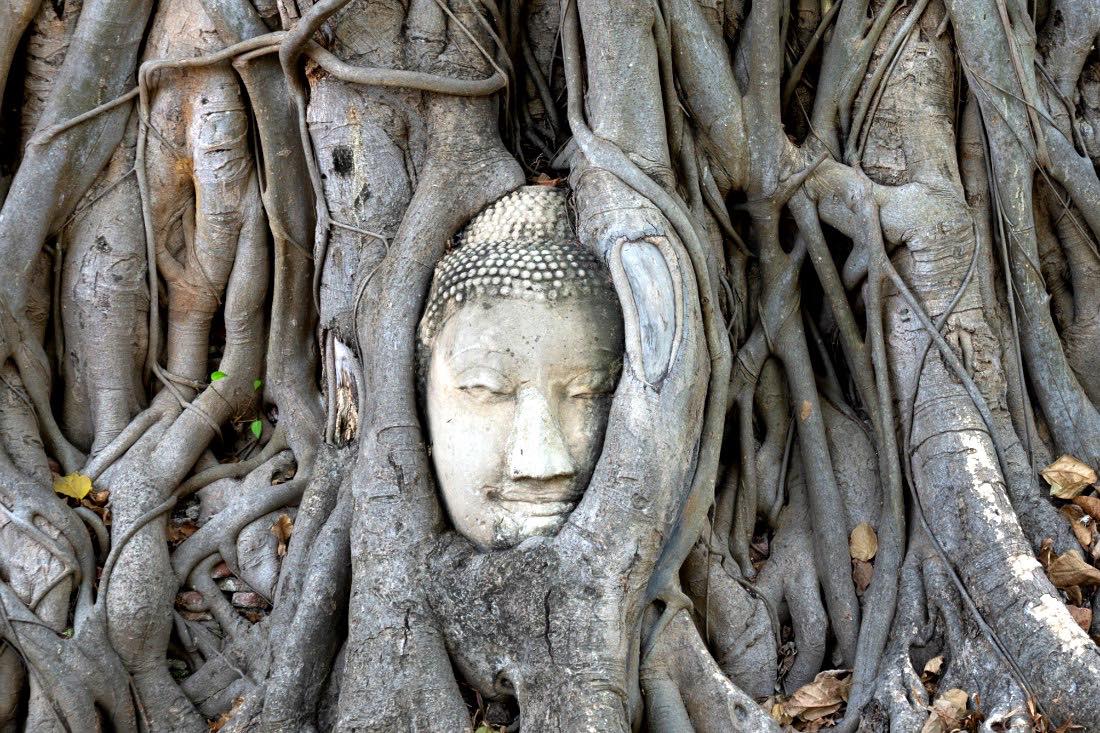 First time to Thailand – where to go? Most land in Bangkok, travel further north to Chiang Mai or to the beaches and islands of southern Thailand.
This was our route for 2 weeks Thailand round trip:
Flight from Dusseldorf to Bangkok
with Etihad Airways in a rather old machine. Anja usually prefers to take Emirates or Qatar Airways, where there are often cheap flights with good service. In January/February 2020 she flew there with Lufthansa and back with Swiss – also recommended!
3 days Bangkok vacation
About an hour Air Asia flight from Bangkok to Krabi town in southern Thailand
45 minutes by taxi from Krabi town to Ao Nang
From Ao Nang in 10 minutes by longtail boat to Railay Beach
1/2 day Railay Beach : very nice beach with its limestone cliffs, although a bit crowded
5 days Bangkok : Since it was raining so heavily, we returned here. I flew back to Germany from Bangkok, Anja on to Australia.

18 Thailand holiday tips for beginners and novices
1) Stay healthy on your Thailand trip
Find out about the conditions in the country before you travel. There is the website of the Federal Foreign Office with the current  Thailand travel and safety instructions .
There you will find information about:
security, e.g. B. domestic political situation and crime
Entry or visa and customs
Bless you
Unfortunately, the corona virus is a big topic at the moment. You will always find up-to-date information on this.
There is also information about the necessary vaccinations . Be sure to go to the travel medicine doctor or tropical doctor in good time beforehand – just like we did.
And take care of international health insurance . Neither Anja nor I got sick in Thailand. But that can get really expensive.
By the way: If Thailand is your first long-distance trip, then don't be intimidated by the detailed travel and safety instructions. Caution is good, but Anja has now traveled to 60 countries. She has been to Thailand around 15 times and nothing has ever happened to her. Neither an accident, nor theft or illness.
Thailand is very well suited for a first long-distance travel destination: Traveling is easy, it is quite cheap and safe, the people are mostly friendly.
2) Pack insect repellent spray – Thailand vacation tips
Mosquitoes can transmit diseases such as malaria or dengue fever in Thailand . That's why we wore the insect repellent spray regularly.
Anja arrived in Bangkok on her first trip to Thailand. And didn't use the remedy directly at the airport. Result: Around 200 mosquito bites, decoratively distributed over both arms.
3) Thailand: SIM card from airport or 7-Eleven
Surely you would also like to use your smartphone on your holiday in Thailand?
During her last trip to Thailand, Anja bought a SIM card directly at Bangkok Suvarnabhumi Airport . When you come off the baggage carousel, there are several booths at the exit.
Anja took the AIS Super Deal: 32 GB in 4G network = 419 Baht for 10 days. The employee immediately inserted the card and activated it. The internet was fast and worked without dropouts.
On our trip together, we bought a SIM card at a 7-Eleven on Bangkok's Khao San Road . The famous backpacker mile is a bit rocked. But here you can also get great street food, cool Chang beer and foot massages right on the street.
4) Overcome jet lag after the Thailand flight
We landed in Bangkok at 11 a.m. (5 p.m. our time), which was the cheapest flight. If possible, it is better to book a plane that only arrives in the afternoon.
Because that's how we sat in the lounge, overtired and with red, burning eyes. Until our hotel room was finally ready.
These jet lag tips will help:
Try to set the local time directly. In other words, go to bed at your usual time if possible, even if you are tired. Otherwise you will be awake again in the early hours of the morning in Bangkok.
Get out in the fresh air and in the sun as much as possible.
Just take it slow at first. Anja usually books two or three days in a hotel for Bangkok to relax first.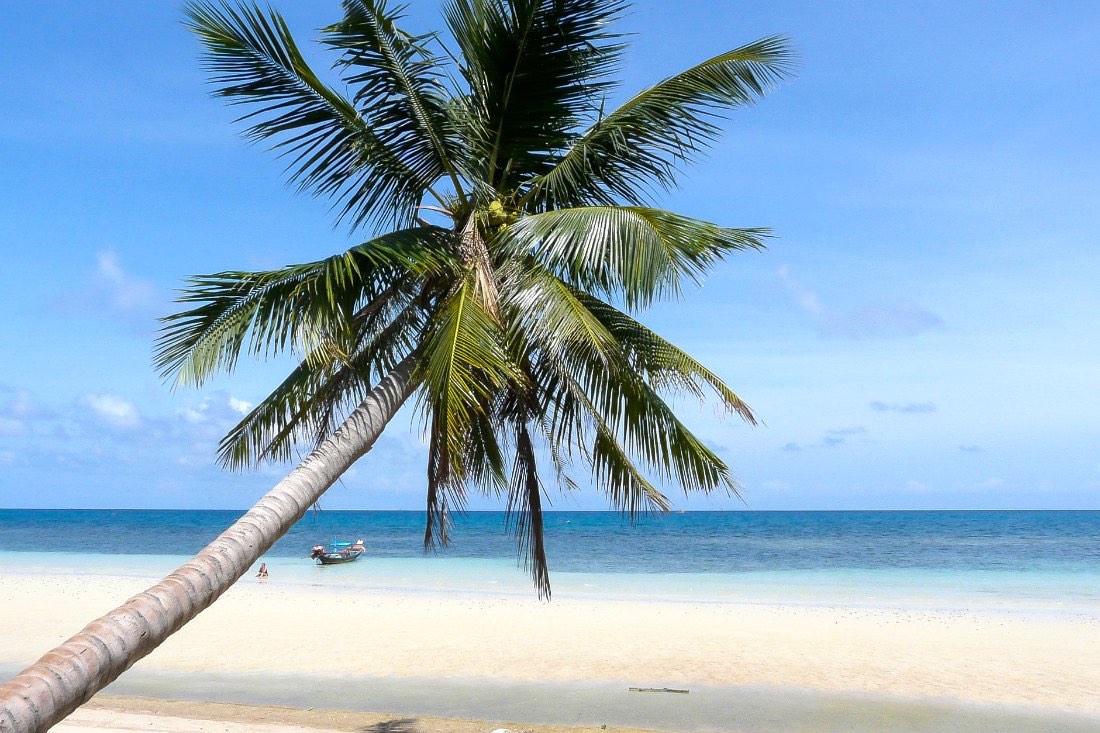 Why we spent 5 days in Bangkok? Because there was untypically heavy rainfall in southern Thailand, including flooding.
Be sure to check the climate tables beforehand . Where do you find them? Search Google for "best travel time Thailand" or better concretely "best travel time Ko Samui". Because the weather differs depending on the region.
And try to be flexible. Anja books hotels via Booking.com and makes sure that she can cancel them free of charge until shortly beforehand . We did the same for our trip and took a cheap flight back to Bangkok.
During one of the heavy downpours I had to pick up Anja in town, she was stranded without an umbrella . It also protects against the strong rays of the sun when the weather is nice. So a tot is really helpful in Thailand.
Sometimes it also has to be a rain cape . Anja once got wet down to her underwear on a boat trip. Not a nice experience even at around 30 degrees.
6) Practical clothes for your holiday in Thailand
In tropical weather, jeans become unwearable – far too warm! I'm very much for shorts, but with side pockets that close well. Because I prefer to have everything important on the man. Anja also wore shorts and light cotton shirts in Bangkok.
Clothing in Thailand's capital and beach resorts differs.
Bangkok is a big city, here the locals can be seen in office or smart casual wear. In the seaside resorts of Thailand, Anja also wears summer dresses and flip flops.
Before our trip to Thailand I didn't know what a sarong was. I learned from Anja that you can use the colorful cloths as a bath towel, towel, cape, skirt or headscarf.
7) Bangkok: Perfect starting point for your trip to Thailand
Flights from Germany to Bangkok are usually cheap . And from here you can easily continue your journey by plane, train or bus .
Love or hate Thailand's capital. I liked it with its hustle and bustle and the many sights.
In the days at the beginning and end of our trip we experience these highlights in Bangkok :
Temples like Wat Pho (including Thai massage) and Wat Arun
River trips on the Chao Phraya
street food
Chinatown
Shopping malls like Siam Paragon and MBK Center
the Chatuchak Weekend Market
Thai afternoon Tea at Mandarin Oriental Bangkok
the Unicorn Cafe Bangkok
VIP Cinema Bangkok with massage, lounger & drink
9) Be careful when driving on the left (Thailand holiday tips)
The cars, scooters and tuk-tuks auto rickshaws drive on the left. Sometimes up to three people sit on the scooters or the baby sits in front of the mother in the high chair.
Always look to the right when crossing the street !
10) Taxi driving in Thailand
If there was trouble on the trip to Thailand , it was with taxi drivers.
Because most refused to turn on the taximeter . They wanted to agree on a – mostly high – fixed price without the meter.
We then stood at the side of the road and asked five or more taxi drivers in a row. Until we gave up in exasperation and took a taxi with a relatively cheap price.
So far, Anja has only had good experiences with the taxis at Bangkok Suvarnabhumi Airport. However, a fellow passenger reported that the driver simply did not turn on the taximeter, even though it had been agreed. When his passengers noticed, the discussions began. Not nice when you have just arrived after a long flight.
We haven't tried Uber or Grab (which replaced the car service) in Bangkok.
11) Thailand Tips: Driving a tuk-tuk is an adventure
With the auto rickshaw through Bangkok – that's fun, but also often exciting with the rapid driving style. Unfortunately, there are always discussions because the tuk-tuk drivers want too much money or make stops in shops. You should then buy something there so that they receive a commission.
So: Negotiate price and conditions beforehand. Also have small bills with you so that you can pay appropriately. Otherwise, there are again – you guessed it – discussions.
12) Boating and Skytrain in Bangkok = relaxation
The Chao Phraya River runs through Bangkok. The boat tours are cheap, fast (= no traffic jams) and easy . Sights such as Wat Phra Kaeo, Wat Pho, Wat Arun, Chinatown or Khao San Road can be reached on foot from the respective pier.
The air- conditioned Skytrain is also handy. However, it can get freezing cold here, just like in shopping malls or in the cinema. It is best to take a light jacket with you.
It gets very crowded both in the boat and in the Skytrain . So this is not for people who are afraid of contact.
13) Credit card is essential – Thailand vacation tips
We used the credit card to withdraw money from ATMs, to book flights and hotels . Anja even had two tickets with her.
What's the best way to protect yourself from theft ? We left some in the hotel safe. Otherwise we distributed cards and cash to different places, e.g. B. in the front pocket or the photo backpack.
14) Take small bills and small change with you
20, 50 or 100 baht bills are good for taxis, tuk-tuks, markets or street food .
At the Skytrain in Bangkok you pay at the machine with 1, 5 or 10 baht coins.
I used 1,000 baht bills from the machine to pay in the mini supermarkets 7-Eleven to get smaller bills.
15) Great shopping malls in Bangkok
Bangkok has many beautiful shopping centers: numerous small shops on different floors. Siam Paragon, MBK Center or Terminal 21 are recommended .
We have always been drawn to the food courts of shopping malls. There are food stalls in a large hall where you can order. We then eat at the tables in the middle. Here you will find food from all kinds of countries, mostly very cheap.
16) Thailand vacation tips for food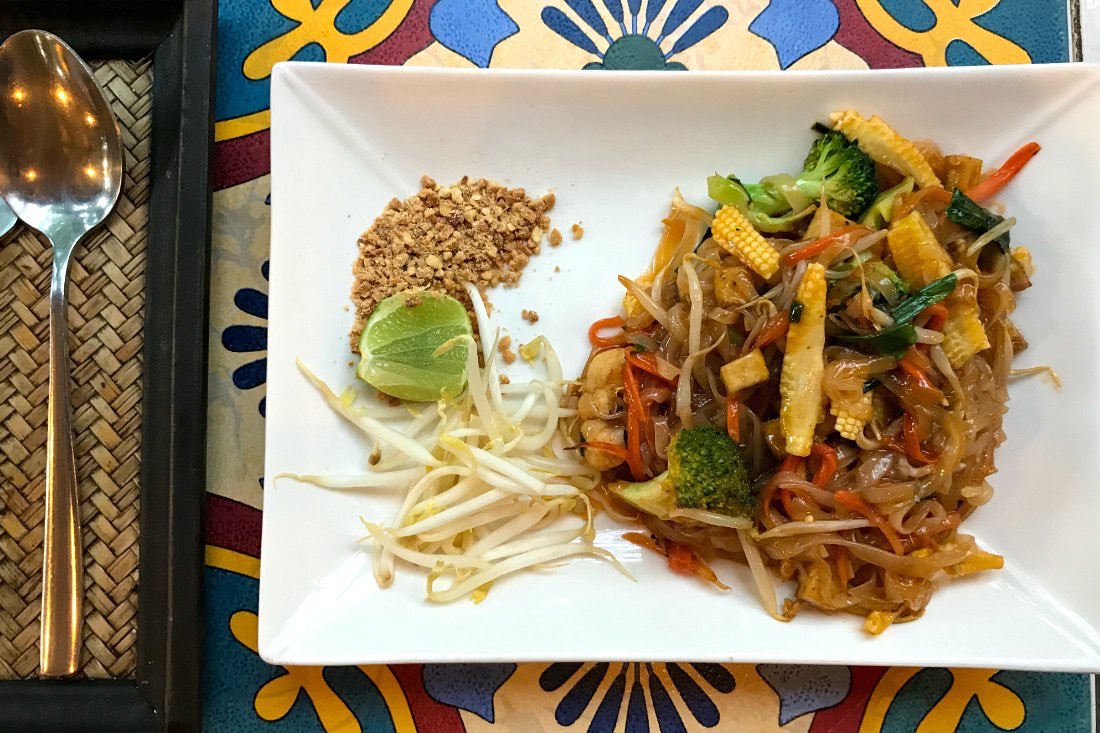 The first time to Thailand: You can eat well here on every corner. It's best to try the different colored curries – from yellow to red to green. Massaman curry with peanuts and potatoes or the Pad Thai noodle dish are also very tasty.
I only once made the mistake of ordering something spicy. The papaya salad was hot as hell and burned for a long time. When Thais say "hot", they mean "extremely hot".
Incidentally, in Thailand,  spoons and forks are used for eating in restaurants.
Don't be afraid of street food! The food at the small stands is freshly made, tastes good, costs little and is usually well tolerated.
The 11 most beautiful restaurants, food markets and rooftop bars.
Anja has been a vegetarian since December 2018 and a vegan since December 2019 . She found cafes and restaurants with plant-based food thanks to the Happy Cow app . For street food, she stuck to Mango Sticky Rice.
Do you already know this blog article?
Travel vegetarian : Beautiful holiday destinations and hotels for 2020
Anja has a strong stomach. She has had an upset stomach once throughout her travels , in Cambodia.
I was traveling to Thailand for the first time and was throwing up for two days. A remedy for nausea therefore belongs in the first-aid kit.
17) Thai massages are awesome (and painful)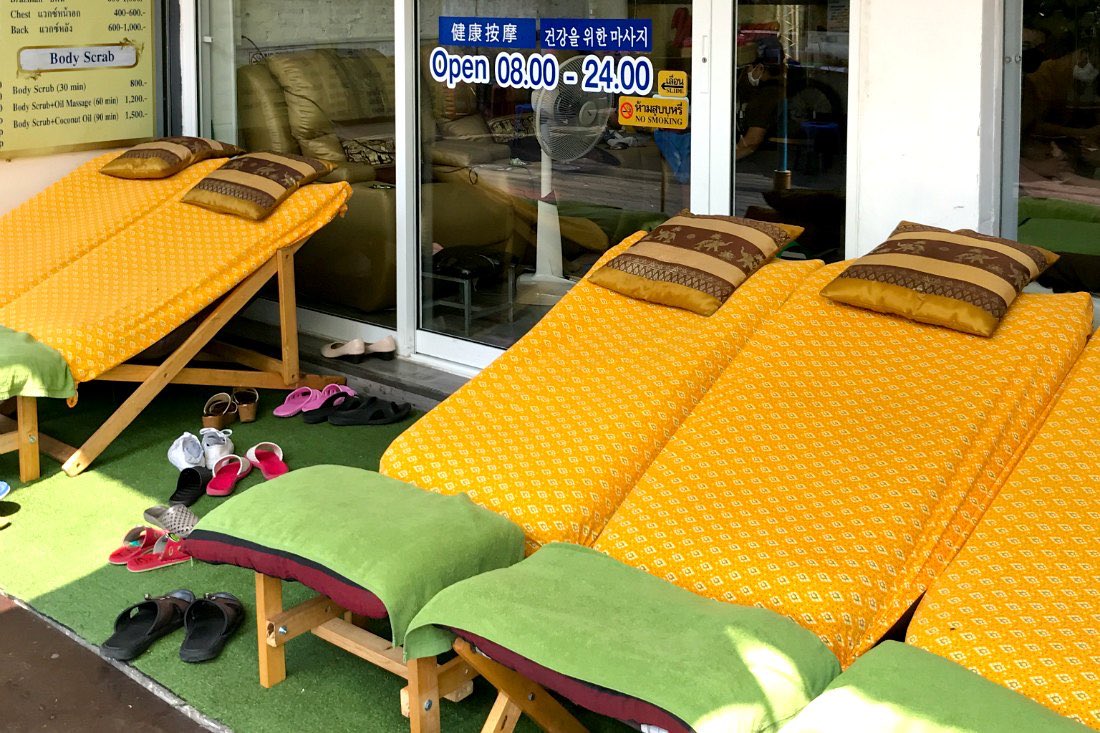 When Anja is in Thailand, she usually goes to a Thai massage once a day. Because it's cheap and extremely relaxing.
It usually goes like this :
She sees an attractive salon, the prices are visible on signs outside.
At the entrance she takes off her shoes and enters the salon.
There she says how long she would like to have which massage. For example a classic Thai massage or a foot massage.
You pay in advance.
During the classic Thai massage, she is given a change of pants and top. Then she lies down fully clothed on one of the floor mats in a large room, the Thai massage does not require oil. Even the smallest, most dainty Thai women often have the strength of a bear. The massage is therefore partly painful, but totally relaxing.
During the foot massage, the feet are washed first. Then the soles and toes are treated with fingers and wooden sticks. Nothing for the ticklish! Legs or even shoulders and arms are often also massaged. Sometimes the foot massage takes place in deckchairs on the street, so you can watch people while you do it.
Often the salons also have Wifi if you don't have a SIM card for your mobile phone.
Anja wished that there would also be an appointment in Germany. And of course it is much cheaper in Thailand than here.
18) Air Asia seats are not intended for Europeans
Air Asia is a cheap airline from Malaysia that Anja has often used in Asia or to Australia.
For the outward flight to Krabi town, she had booked us comfortable hot seats with more legroom for a fee. On the way back we took the regular seats with our knees on our chins and felt like caged chickens.
Our recommendation: Always book hot seats with Air Asia – at least if you are taller (Anja is 1.80 meters, I 1.87 meters) or fly longer routes